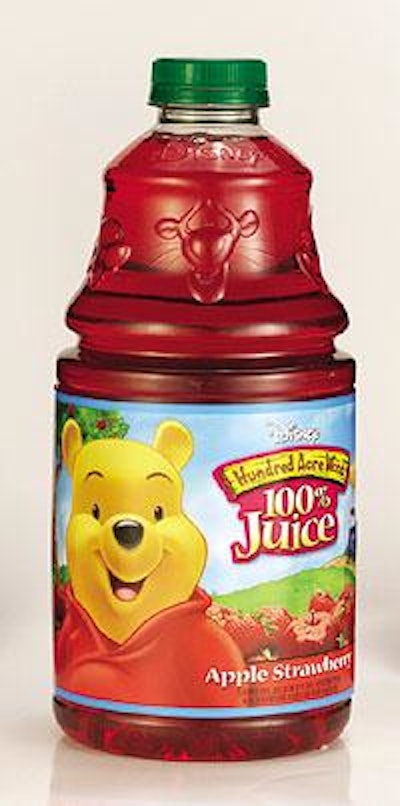 What new developments should we expect to see in aseptic packaging of plastic bottles over the next few years? That depends to a great extent on the state of the economy. Industry experts believe that conversions from heavier hot-filled plastic bottles to lighter and cheaper aseptically filled plastic bottles would have been more numerous by now if economic conditions had been better.
"Economics favor aseptic filling over the long term," says Dr. Sevugan Palaniappan, manager of technology innovation at Houston-based Minute Maid, a division of The Coca-Cola Co. "But the high cost of entry has been a major barrier. Today's economy has made it difficult to go to management and ask for approximately $20 million for one complete aseptic line."
Up-front capital considerations are not the only hurdle, says Rob Hoskins of Krones (Franklin, WI), an equipment maker that offers blow/fill lines suitable for aseptic filling. "There's also a sizeable investment in training and operations," says Hoskins. "The technology can be daunting. A lot of beverage marketers are waiting for others to bite the bullet and make a move in this direction so that the rest can follow."
Some are waiting for contract packagers to make a move. Ferolito Vultaggio & Sons is a good example. Widely acclaimed for the string of beautiful glass containers and labels it has developed for its AriZona teas and juices, the firm finally launched beverages in a hot-filled polyethylene terephthalate container late this summer.
"We'd consider aseptic filling, but there's not enough capacity out there," says John Balboni, president and chief business development officer at the Lake Success, NY, firm.
Technology deployed by commercial blow molders is also a factor, says Ed Lerner, manager of R&D package and process development of Concord, MA-based Welch's. "Advances in bottle technology mean that you're now able to hot fill a plastic bottle without it having to be as heavy as in the past," says Lerner. "So the cost difference between cold-fill and hot-fill plastic is not as great. It's still there, but it's not as great."
Lerner says that aseptic filling was considered recently when Welch's launched a 10-oz single-serve bottle for its juices. But a hot-fillable, polypropylene-based, multilayer barrier bottle proved more attractive, largely because it can be filled on the same hot-fill lines that Welch's uses for its 10-oz glass. Under such circumstances, it's pretty tough to sell management on a multimillion-dollar aseptic line.
Appeal is still strong
Still, aseptically filled plastic bottles remain appealing to a wide variety of beverge marketers, including Minute Maid's Palaniappan. Several of Minute Maid's beverages are currently in hot-filled plastic containers. "But," says Palaniappan, "we don't see hot-fill plastic meeting our needs in every case in the future.
"Compared to hot-filled plastic," he continues, "aseptic packaging gives you complete freedom over how you design. You're not forced to include vacuum panels in your package. It also offers better flavor and nutrient protection. And you just can't ignore the economics."
Palaniappan believes consumer trends will also drive beverage marketers toward aseptic filling of plastic.
"Consumers don't want just straightforward beverages like juice or milk anymore," says Palaniappan. "They want flavors and vitamins and nutrients added. Or they want milk and juice mixed together."
When premium products such as these are hot-filled, says Palaniappan, special flavors and nutrients that are thermally sensitive can degrade. He believes the high-temperature/ short-time processing of cold aseptic filling is better suited to products that meet these emerging consumer demands.
The promise of low acids
The other key area of interest in aseptic filling centers around low-acid products. These are inherently more difficult to package in a shelf-stable format because potentially deadly bacteria that don't grow in high-acid products will grow in an unrefrigerated low-acid environment if either processing or packaging fails to provide true aseptic conditions. The U.S. Food and Drug Administration has accepted low-acid products in brick-style aseptic packages, but the only low-acid, aseptic plastic-bottle packaging system that has passed FDA muster is the system from Bosch (Bridgmen, MI) used by Ross Products for Similac infant formula since late '98.
A number of industry sources contacted by PackagingWorld believe this will soon change. Among them is Mike Wallace, director of process and packaging development at Ross Products in Columbus, OH. For evidence he points to the U.S. dairy industry, where firms such as Dean Foods and Nestle have been hugely successful with extended-shelf-life low-acid products sold in plastic bottles in the refrigerated case. These firms are said to be using the same equipment, processes, and materials that European firms have used for years to produce packages with ambient shelf lives of up to a year. European companies sell in a shelf-stable format because they needn't worry about FDA acceptance. Here in the United States, however, to market a low-acid beverage in an aseptically filled plastic bottle at ambient temperatures, a company must file with the FDA, an expensive and time-consuming process. So far, Ross Products is the only firm to receive a letter of nonobjection from the FDA. But Wallace says that will change soon enough.
"ESL in the dairy industry, where 90-day shelf life is now common, will migrate to true aseptic filling," says Wallace. From there he predicts it will spread to nutritional products, like Slim-Fast, for example, that currently are retort-processed in steel cans. "The technologies are gaining momentum," Wallace says. "There's so much money being invested. Sidel, Remi, Shibuya, and others are all so close that it's just a matter of time before they can successfully file with the FDA and prove their plastic bottles are commercially sterile and aseptic. Eventually one will make it through, and that will bring the others."
He sees the nutritional beverage category as especially promising.
"With these products, the retorted steel can has got to give way," Wallace says. "It's no longer the package of choice. So the whole question is, how much development work does a marketer of nutritionals want to do? How much do they want to invest?"
Jeff Kellar of Tetra Pak (Vernon Hills, IL) also sees unlimited potential for aseptically filled plastic bottles in the nutritionals category. "The can is a great package," he points out. "But if you sat down with a consumer and asked if he'd like that kind of product out of a can or in a resealable plastic bottle, I think the answer to that question is pretty obvious. And remember, the canned product is going through a high-temperature long-time retort. If you can avoid that thermal degradation through aseptic packaging, you retain flavor and nutrients."
Corporate synergies
Wallace, too, points to certain synergies now afoot that will only boost low-acid development work already under way. On the supplier side, he observes, plastic-bottle-making leader Sidel is being bought by aseptic-packaging-technology leader Tetra Pak. And on the end-user side, Dallas-based Suiza Foods, the nation's leading processor and distributor of fresh milk and a variety of ESL dairy products, has acquired Dean Foods, the company that made ESL Milk Chugs a household staple.
Suiza's Morningstar Division at the recent FMI show in Chicago showed off a 14-oz white opaque plastic bottle of Hershey's brand chocolate milk. Like Nestle's Nesquik and the Chugs line from Dean Foods, the Hershey's bottle was adorned with a gorgeous full-body shrink sleeve label. Since the FMI show, Morningstar, which currently packs Hershey's products in ESL gabletops, isn't saying much about its plans for the 14-oz plastic bottle. But some observers believe the idea is to launch the product as an ESL item and then seek FDA acceptance on an aseptic, shelf-stable bottle.
If that is Morningstar's goal, they're not alone. In late August, contract packer Jasper Foods of Joplin, MO, bought from Tetra Pak a linear aseptic system capable of 12ꯠ bottles/hr. It follows a similar Tetra installation at a dairy in South America, where a high-density polyethylene barrier bottle began reaching store shelves in August. Tetra's Kellar says the installation at Jasper Foods "will begin the kickoff of our FDA low-acid acceptance process. Jasper Products will be our partner."
Kellar is also quick to point out that the barrier component should not be forgotten by food and beverage marketers looking to move into low-acid, shelf-stable, aseptic applications.
"Right now the technology for barrier in coextrusion-blown HDPE is more proven than in PET," says Kellar. "There are some good barriers for PET now emerging, and a number of others are in development, including our own Glaskin technology. But right now, HDPE is further along. You do lose clarity, but maybe clarity isn't all that necessary in every case. After all, 40 cents per pound vs 55 cents per pound should mean something."
A push from Campbell?
An added push for wider acceptance of low-acid bottling systems in the United States could come from Camden, NJ-based Campbell Soup, whose Liebig Div. in France has been using a Serac (Carol Stream, IL) system to aseptically fill shelf-stable, low-acid soups in plastic bottles since late '99 (see July '00, p. 4 or packworld.com/ go/liebig). In the first quarter of 2001, Campbell expanded its distribution into England under its Homepride brand. A Campbell spokesperson emphatically states that the firm has no plans to bring these aseptically filled, low-acid soups into the U.S. market. But if, as it now appears, certain beverage and nutritional products marketers blaze a low-acid trail, Campbell would be in a good position to use the experience of its European divisions to bring a similar product and package to the United States.
And how soon will these beverage and nutritional products marketers blaze the low-acid trail? Probably not until the numbers look good. As Dan Green of Franklin Park, IL-based Dean Foods puts it, "If you make a $20 to $50 million investment in a low-acid, aseptic packaging line, you'd better have a lot of product to push through there real fast."
But Green does believe that low-acid products aseptically filled into plastic bottles will eventually establish themselves in the United States. "It'll happen, but it won't be a slam dunk," he adds.
Over on the high-acid juice side, Ray Bourque of Lakeville-Middleboro, MA-based Ocean Spray agrees. "Right now we're looking at the first generation of high-speed, aseptic bottling systems," Bourque says. "In the future, these systems will become smaller and simpler for the workforce to operate. I believe that aseptic bottling is the wave of the future and it will become the major technology used for shelf-stable juices, drinks, and beverages."
See sidebar to this article: Projected growth
Companies in this article