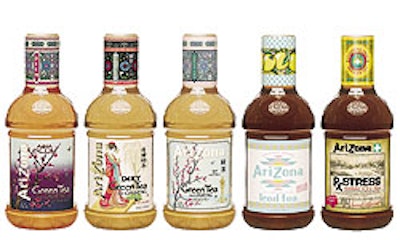 Innovative uses of polyethylene terephthalate continue to shine in the packaging spotlight. That's especially so in the beverage and dairy markets, where prominent manufacturers including Perrier Vittel SA and Ferolito Vultaggio & Sons (creators of AriZona Beverages) introduced beverages in noteworthy PET bottles earlier this year. Moving into PET was significant for Lake Success, NY-based Ferolito Vultaggio & Sons. In July, the company began using PET for five 42-oz "new-age" AriZona Beverage-brand drinks (1). Until now, the company's offerings have been recognized for their custom glass bottles decorated with colorful, vibrant sleeve labels. The new hot-filled PET bottles are additions to the glass containers. The heat-set PET bottles retail nationwide for $1.99. Shelf life is nine months. "Development of a longneck, heat-set PET bottle has been part of our plan for the brand for some time," says Don Vultaggio, FV chairman. "Making it happen was a huge undertaking for our company, and we appreciate all the hard work from our supplier, Constar." Constar (Philadelphia, PA) is a subsidiary of Crown Cork & Seal. The custom bottle includes an approximately 3"-long neck that creates differentiation for the products. "Prior to now, hot-filled PET used basic designs that served the function of containing the product," says John Balboni, FV's president and chief business development officer. "But we wanted to make the plastic bottle look just like our classic, proprietary glass bottle design," he tells Packaging World. While the bottle retains a shape similar to that of its single-serve glass counterparts, it also offers hand grips that allow a consumer to grip the bottle and easily pour out its contents. "One of the things we found out through our research was that people were dissatisfied with the standard two-liter soda bottle because once you open it and release the pressure, it's very difficult to hold and pour without using two hands," Balboni contends. The bottle also incorporates a lug at the bottom that helps in orientation on the filling line, allowing precise front-and-back-panel label application. The five flavors in the PET line, including new RxStress Tea, are contract-packaged by Northland Cranberries (Wisconsin Rapids, WI) at a plant in Dundee, N.Y. New equipment and change parts were necessary for the job. Fill temperatures range between 185° F and 190° F. In the near future, the company is expected to transition from monolayer PET to Constar's patented StarShield® system. It will include a multilayer oxygen-scavenging bottle construction that incorporates the vendor's Oxbar™ scavenger. "We currently have a nine-month shelf life, and we want to get to one year," says Balboni regarding the enhancement. "We do not use preservatives or artificial colors or flavors, and we want to build as much shelf life into the package as we possibly can to ensure the highest quality." Balboni says there's no question "going to PET is big for us. But we're trying to bring innovation to the plastics side, just like we've done with glass. We've been working for years on this project to get it right, and we feel that we've developed a PET bottle that's consistent with our other packaging and imagery." He admits that this 66-g bottle is a heavier weight than would traditionally be used for a 42-oz beverage and is therefore more expensive. "We justify that expense from the standpoint that we're delivering a premium product and package for the consumer."
Carbonated dairy beverages Perhaps the most unusual PET application covered in this report is for an 8-oz carbonated dairy-based beverage called e-MOO (2). Marketed by MAC Farms, Burlington, MA, e-MOO is made from powdered or fluid milk (depending on price and availability), flavorings, and nutrients. After high-temperature short-time (HTST) pasteurization, carbon dioxide is bubbled at a constant rate into the liquid via a sparger supplied by Praxair (Danbury, CT). That occurs just upstream of filling. MAC Farms develops, manufactures, and markets e-MOO but has the beverage contract-packaged by Queensboro Farm Products (Jamaica, NY). For this application, Queensboro added a new 12-valve rotary filler from Federal Manufacturing (Milwaukee, WI) and a labeler made by Quadrel Labeling Systems (Mentor, OH). Bottles are supplied by Schmalbach-Lubeca (Manchester, MI). "Schmalbach worked very closely with us during this whole process to develop a bottle that retains the carbonation, yet allows us to keep our costs down," says George Clark, MAC Farms' vice president of operations. Clark, a biochemist, helped start MAC Farms about five years ago, along with his wife, Mary Ann, a registered nurse. Carbonation helps extend the beverage's shelf life. "The carbonation lowers the pH of the dairy product to an acidity level of about 5.9, which [inhibits] bacterial growth," explains Clark. The addition of CO2, coupled with a patent-pending process that Clark cannot yet discuss, helps e-MOO achieve a 60-day refrigerated shelf life. MAC Farms worked with Cornell University to develop the carbonation process used for e-MOO and to create products for specific consumer groups. The ribbed bottle is easily gripped by children, and the nonfat beverage provides the same nutritional benefits as skim milk, Clark contends. "But in addition to adding nutrients and extending the shelf life, we wanted to position this beverage as fun and exciting. For years, dairy products had been considered one of the essential food groups, but not a beverage. Sales of milk were moderate to flat, compared with other beverages that were showing more sizable growth. "About three or four years ago," he continues, "the dairy industry began to make moves to get out of its doldrums and increase sales. And while some companies came out with very attractive and unique packages that created market interest, they did not add functionality or better taste or extend the shelf life of the milks." Based on the success of a mid-June test market in four Tops Markets stores in New York "that far exceeded our sales goals," says Clark, that retailer contacted MAC Farms to produce e-MOO for a broader market. E-MOO recently expanded into 126 stores located in New York, Pennsylvania, and Ohio. "And in October, we'll be introducing the beverage into Walgreens in four eastern states. We expect to be in Walgreens stores nationwide at some point next year." The 8-oz e-MOO is currently sold in two flavors, though MAC Farms has formulations for 11 varieties. Suggested retail price is 69¢. Clark says the small "e" in e-MOO refers to the electronic "E". "We noticed more youngsters are learning about computers and sending e-mails instead of writing notes, so we figured the 'e' would bring milk into the electronic age." By next summer, MAC Farms expects to have three more carbonated beverages on the market. Clark says these products will be sold in 10- or 12-oz PET bottles, also from Schmalbach-Lubeca.
Perrier's PET 'sandwich' Carbonation also plays a critical role for Perrier Vittel SA in France. In June, Perrier introduced a 50-cL (16.9-oz) "on-the-go" special PET bottle of its highly carbonated mineral water (3). Schmalbach-Lubeca produces preforms at its plant in Brecht, Belgium, that it ships to Perrier's plant in Vergèze, France, for stretch blow molding on a new line. The bottle weighs 28.5 g and has a 28-mm finish. Shelf life is 12 months. "Perrier is a highly carbonated beverage with very low mineral content that required 11 years of research to develop a special PET to resist carbonation loss and guarantee the product would be the same flowing out [of the bottle] as it was going in," says a Perrier press release. The release says the technical challenge in producing the bottle was met by two layers of PET sandwiching a layer of nylon MXD-6. That material, Perrier says, reduces carbonation loss after 12 months to just 15%. With traditional PET, the company notes, carbonation loss would exceed 50%. "At the end of 12 months, organoleptic testing revealed that consumers couldn't detect any carbonation loss," according to the release. Perrier says that it's the only bottler using Schmalbach-Lubeca's nylon coextruded bottle. Besides meeting the company's organoleptic concerns, the 50-cL bottle maintains Perrier's venerable bottle shape, as well as a foot that the company claims represents a five-petaled flower. Perrier credits the design to agency Dragon Rouge (Cedex, France). A roll-on pilfer-proof aluminum cap completes the labeled bottle that Perrier touts as unbreakable, transportable, and recappable. It will be practical for use in stadiums, transportation venues, parks, sports halls, gardens, theaters, gas stations, fast-food outlets, and bakeries. Launched simultaneously in France, Belgium, England, and Switzerland, the bottle retails for the equivalent of $1.07 to $2.06, depending on the country. Perrier expects to launch the bottle in the United States and Canada next year.
Additive for milk Another PET application in Europe is for 1-L milk sold under the brand name Gold Top (4). It was introduced in May in the United Kingdom through a partnership between Highgrove Foods and PET Technologies (Chalgrove, Oxfordshire, England). PET Technologies developed an additive called ATX 432 that's blended with PET to help lengthen Gold Top's refrigerated shelf life. "This is the first milk to be sold in a PET bottle in the U.K.," claims Keith Collins, managing director of Highgrove Foods, Wootton Bassett, Wiltshire, England. Highgrove sells, markets, and distributes dairy products to retailers in England, Wales, and Scotland. Collins tells PW that "home-delivered, glass-bottled milks are part of our country's heritage." Many years ago, he says, home-delivered milks dominated the market. He says paperboard cartons were prominent in the '80s, followed by high-density polyethylene containers the following decade. PET, he says, "wasn't a go until it cracked the UV-protection barrier and was able to deliver the 10- to 12-day shelf life that was absolutely key to selling milk in supermarkets." That time frame may seem short compared with what's common in the United States, but Collins points out that Highgrove distributes milk in a smaller geographic area than the U.S. "The ATX from PET Technologies was the key to the shelf life, though I'm not qualified to provide the technical reasoning behind the process," Collins admits. PET Technologies mixes the ATX with PET resin. The blend is used to injection-mold into preforms. Preforms are subsequently stretch-blown into 38.5-g bottles and shipped to Graham's Dairy (Stirling, Scotland) for contract filling on a new line. The Gold Top-brand milk comes from Jersey and Guernsey cattle, which Collins says are recognized in the U.K. as premium breeds. They produce a product with 5% milkfat with high protein and calcium content. The term Gold Top, he says, is used in the U.K. to refer to something that's the best, or the crème de la crème. That's appropriate considering that a key sales point for Gold Top is that it's made with unhomogenized milk so that the cream naturally floats to the surface in the bottle. Collins says that there are no oxidation problems with the cream exposed to headspace in the bottle within the 10- to 12-day shelf life. "The PET gives us the clarity we wanted so people could see the cream at the top," notes Collins. "And the bottle is shaped like the traditional pint glass bottle. We wanted to replicate that familiar shape, but we didn't want to select glass because supermarkets in the U.K. won't entertain it in the chill cabinet because of potential breakage. "That is why the development we have undertaken with PET Technologies is so exciting," he continues. "The new bottle fulfills all our requirements from a marketing, esthetic, and handling viewpoint, while satisfying the supermarket demand for shelf life." Currently, Gold Top is sold at well-known retailers such as Tesco, Sainsburys, and Somerfield for 91 pence ($1.33). "It's doubled our sales forecasts so far," Collins says with enthusiasm. Next up, he notes, will likely be single-serve versions. "We're looking at a 330-mL [11.15-oz] size," he states, possibly for introduction next year. "Whether the major dairies will want to make further investments in PET bottle development here remains to be seen after heavy investments in the '90s into [HDPE] bottles," he says. "There could be some resistance, so it will be interesting to see how this pans out."
Companies in this article