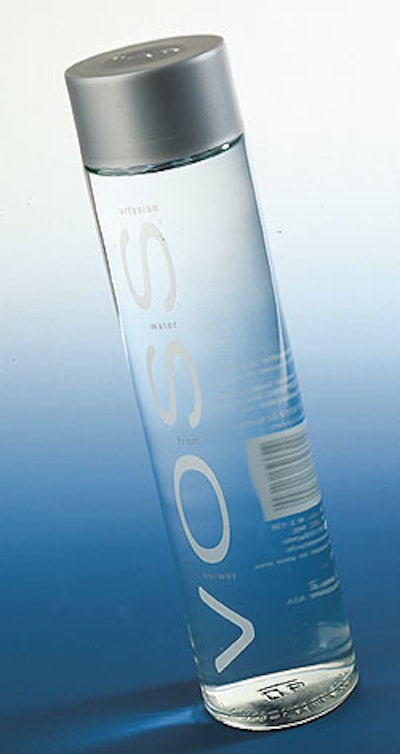 It's not easy to get to the town of Iveland in Norway, which is 30 miles north of the southern port of Kristiansand. But that's where Oslo-based Voss of Norway's bottling plant is located, near the source of its ultrapure water. And it's where the company's heavy, cylindrical glass bottles end up after traveling a circuitous international path that begins in Ireland where they are produced.
Blown in 375- and 750-mL sizes that weigh 390 and 540g respectively, the bottles were trucked to Ireland's west coast and shipped to coastal England from where they were trucked inland for decoration by applied ceramic labeling. Once decorated, the bottles were returned to England's west coast and sent aboard ship destined for Norway's southern coast and then on to the plant.
It's easy to imagine the steep costs in transportation Voss incurred, not to mention the opportunities for breakage along the way.
By adopting Envirogluv screen printing technology from RevTech (Edison, NJ) in its plant, Voss was able to get itself out of logistics and inventory hot water (see Feb. '01, p. 10, or packworld/go/voss). Voss eliminated the decorating trips across England and was able to move into a just-in-time mode for bottling production. Voss is the first company to use the technology outside of Revlon, where it was developed to decorate glass bottles of nail polish. RevTech provides the UV-curable polymer inks. Equipped with special UV lamps, the two-color screen printing press used by Voss is supplied by Rosario Productie BV (Dongen, The Netherlands) and became operational in summer 2000.
Each transportation step had increased the chance for breakage of the heavy, expensive bottles, according to Oystein Kjaereng, Voss vice president of sales and logistics. "Almost every bottle that breaks is broken during handling, so reducing handling reduces breakage," he explains. With the change, bottle breakage has been reduced by 10%, he reports. Voss is testing a bottle that's lighter in weight by 25%, further cutting transportation costs.
Ironically, the bottled water is exported back to England, and also to the U.S. where the product in still and carbonated versions sells for $6 and $10, respectively. By inventorying unprinted bottles, the company can fill either size in still or carbonated versions. "With the new technology, we can now print bottles as we need," he notes, a capability that also opens up marketing opportunities with private label applications.
Although the decorating and other equipment is capable of higher speeds, the line speed of 66 bottles/min is set by depalletizing rates. Currently, Voss operates its automatic depalletizer as a semi-automatic unit that requires an operator to push buttons to control the machine's motions.
Fizzed first
Bottles are semi-automatically depalletized and conveyed to a piece of equipment Kjaereng calls "the fizzer." It prepares the bottle's surface for printing, using two misting nozzles to coat the bottles with what Kjaereng describes as a "common, vinegar-like solution."
The spray coverage is crucial, Kjaereng emphasizes: "If the spray is too thinly applied, the ink will not stick to the bottle if the bottle is immersed in water. If applied too heavy, the material is wasted: It's like putting three layers of glue on when one will do." The "fizzer" is supplied by Rosario.
Bottles discharge next to a 20'-long heat tunnel where the coating is dried. Bottles continue on to the enclosed Rosario Model CS 150-2-UV screen printing machine. The 2-color printer, one modified by Rosario for this application, measures about 15' L x 9' H x 5' W. Prior to entering the printer, the bottles are turned on their sides and enter the unit horizontally.
At the entrance, bottles are individually gripped by rubber pads that press against the bottle top and bottom. After one side of the bottle is printed, the rubber pads rotate the bottle, and the other side is printed. A 25kW UV lamp cures the ink after each of the two applications. Bottles are printed online in two colors, with different colors used for each variety. The ink is supplied by RevTech in 1-gal high-density polyethylene pails that are pigmented black to block light penetration.
Voss is awaiting a new, four-station Rosario printer that's expected to be installed this autumn. He calls the current printer "a test model that works perfectly well."
Kjaereng says the biggest challenge to the project was in training personnel to understand how the printing is done perfectly and to train them to foresee problems that may arise.
Kjaereng says that 60% of their production is the larger bottle. He states that the smaller bottles are a bigger printing challenge due to their smaller diameter. Decoration changeovers take about three hours, he says.
After printing, bottles are conveyed for interior rinsing before entering a refurbished 42-valve rotary filler. The bottles are capped by a refurbished rotary unit. The 38/137mm caps are supplied with a plastic foam liner that is not induction sealed. Instead, an applicator downstream affixes an small pressure-sensitive label to the side of the cap and bottle.
Bottles are then case packed; the 750 size is packed 12/case, the 375 size is packed 24/case.
Kjaereng says that a growing percentage of the line's output is for still water, which now represents 60% and will soon be 70% of all volume. "Voss water is about 90-95% of the output on the line," he says. They also bottle and label still water in polyester containers for local customers in the area.
Custom U.S. customers
Kjaereng points out that another advantage of the decorating technology is what he calls "one-to-one marketing. We can make and print product according to what the customer wants, and we can make batches as small as 1000 bottles even with the special print." Voss is already leveraging the marketing advantages of their decorating technology by providing Envirogluv-printed bottles to an American hotel chain.
The United States is by far the most popular destination for Voss's products: Kjaereng estimates that 95% of its current business is done here.
"[The product] is very much packaging driven to stand out from the crowd," says Kjaereng. He calls the bottle "almost a conversation piece. People look at the bottle and are amazed, not only by the form and weight and quality feel, but also that the printing is subtle, yet shows off very clearly what kind of brand this is."
Companies in this article