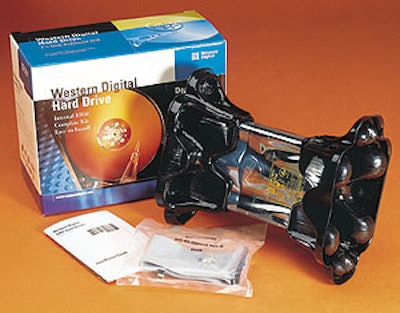 WDC switched from twin expanded polyethylene foam inserts to a pair of Reflex end caps from Reflex Packaging (Burlingame, CA) that suspend the 5¾'' x 5'' x 1''drive inside a corrugated box. The nestable end caps are custom thermoformed from low-density polyethylene sheet by Berkley Industries (La Mirada, CA) that's made of 100% post-consumer recycled content.
Berkley was also responsible for the turnkey packaging for the product, including sourcing and procurement of all raw materials. WDC senior packaging engineer Frank Moss says the change delivers a cost savings of more than 50%, while maintaining the same protective integrity as the foam inserts.
At the same time, a modest size reduction of the product box–no more than an inch in any dimension–allows the shipment of 200 units/pallet instead of 120 as before, notes Moss. Shipping costs remained constant, he points out, since freight charges are based on unit load volume rather than weight. The 9½'' x 4 ½'' x 7¾''auto-bottom box is fabricated of single-face E-flute and an outer liner of 12-pt SBS that's litho-printed in five colors.
The primary boxes also meet e-commerce requirements, which are more rigorous than standard retail specifications, for the company's "value added resellers." He notes retailers such as Best Buy are thus "blessed" with a retail box robust enough to allow customers to then ship it on to a third party. "This new packaging has been well received by our marketing group," sums Moss. "They wanted consumers to enjoy a 'Christmas gift' out-of-the-box experience when they open the nice, orderly packaged product."(RL)
Companies in this article