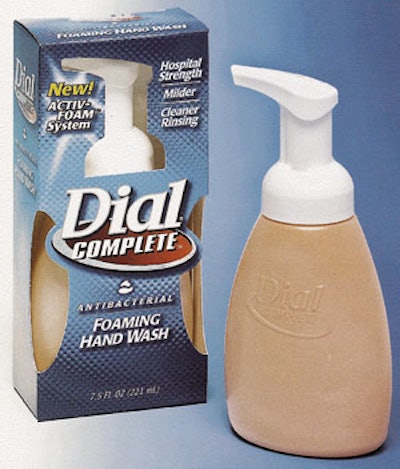 When the user presses down on the pump, the action opens air vents that force air into the liquid. As the liquid passes through two screens, foam is created. Scottsdale, AZ-based Dial is the first user of the Table Top Foamer pump from Airspray Intl. (Pompano Beach, FL). The pump includes 13 individual components, some made of stainless steel, some of injection-molded polypropylene. A third-party company makes the components. Airspray assembles them and ships them to Dial's Compton, CA, facility. Dial applies the 40-mm screw-on pump closure to a polyethylene terephthalate bottle from Graham Packaging (York, PA).
"The challenge we have in filling," notes Tom Herrmann, Dial's director of corporate communications, "is that we have to minimize the amount of foaming that occurs during the filling process." At press time, specifics were not available as to how that challenge is met. The filled container is sold in a paperboard folding carton.
"This product is so new and so different that we needed to use a carton to tell consumers about it. The carton is die-cut so that consumers can see the pump," Herrmann says. The carton is supplied by Ivy Hill Packaging (New York, NY).
Herrmann says the Activ-Foam product formula contains 10 times more germ-killing strength than standard liquid soaps and helps kill germs such as staph, strep, E. coli and salmonella. Sold in a 7.5-oz size, Dial Complete retails for $2.19, with a refill pack of two identical containers selling for $3.59. "The refill packs provide consumer convenience," says Herrmann. "What you do with the refill pack is remove its cap and replace it with the pump from the original container. So it prevents spillage that can occur when a consumer has to pour product from one container to another, and it saves them money by not having to buy the pump again." (JB)
Companies in this article