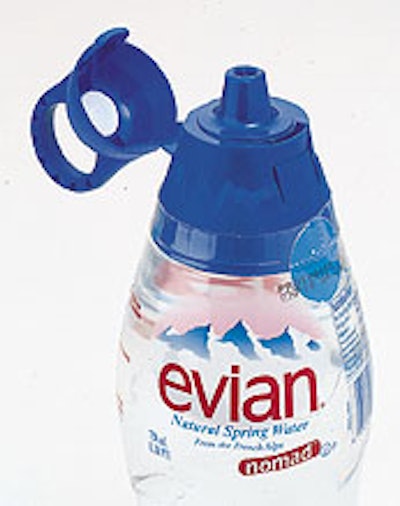 The loop allows the 750-mL bottle to be conveniently clipped to something such as a backpack, allowing the consumer to tote it along.
The loop portion of a hinged protective "overcap" is the key part of the custom one-piece closure (inset). The hinge, which is locked, must be released to access the product. That's done through a three-step process printed on the label: Press on the [molded] arrow; pull ring; remove foil seal.
A tiny induction-sealed liner covers the bottle's 5/16'' opening and adheres to the inside of the hinged portion.
Evian's brand-identifying mountains are molded in 3-D relief around the closure. The closure is oriented to the front face of the label so that the loop can be seen in full view. Further distinguishing the package is the curvy, custom PET bottle, which is reportedly filled at 300 bpm in Evian.
After the label is applied, it is shrunk in two 9'-long steam tunnels from PDC-Europe (Austin, TX). Packaging World is told that the steam tunnel tandem was selected by Evian to ensure a smooth label surface free of bubbles or wrinkles. The polymeric label is printed in at least four colors. Inexplicably, there's a circular pressure-sensitive blue label located beneath the primary label. We suspect that it performs some tamper-evident or orientation function.
When asked about the bottle status, an Evian spokesperson stated that it is "currently a promotional package." Although Evian says that Nomad is sold primarily at convenience stores, a PW editor purchased it at a Chicagoland grocery store for $1.99. (RL)
Companies in this article