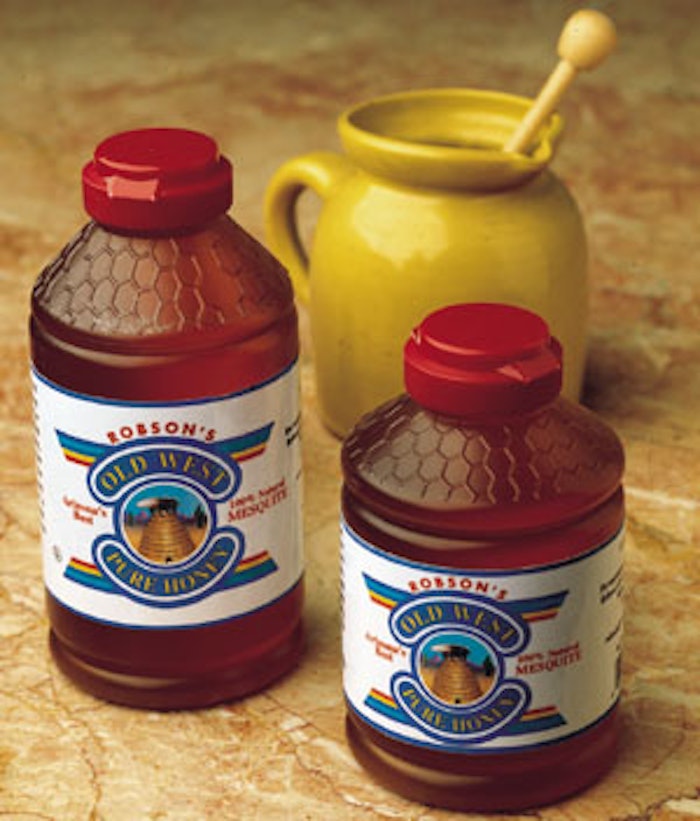 Pleased as he is with the newly automated packaging operation that now graces his plant, owner Charles Robson is just as jazzed about the company's new honey package.
"I think the custom look is extremely important as a way of establishing our uniqueness," says Robson. That uniqueness is partly a function of where the honey comes from. "Unlike our competition, we buy no imported honey," says Robson. "It's all from the U.S.," mostly Arizona.
Processing at Robson's is also a point of differentiation. "Again, unlike most of our competition, we don't run our honey through a straining process that takes out vitamins, minerals and enzymes."
These distinguishing characteristics, which are touted on the Robson's label, make Robson's product special. That's why a special container was deemed appropriate. But if a custom bottle were in order, why not one made of polyethylene terephthalate, clearly a preferred material with today's consumer?
"We looked at PET," says Robson, "but it would have been more expensive, and in today's honey market, you have to be extremely competitive."
Bottle sizes sold by Robson at retail include 8-, 12-, 24- and 48-oz. All four have the new honeycomb pattern and are extrusion blown by Quality Plastics (Prescott, AZ).
Topping all four container sizes, and adding a touch of dispensing convenience, is a flip-top closure with a pour spout. The previous closure had no such feature. Supplied by Creative Packaging (Wheeling, IL), the same 38-mm injection-molded polypropylene closure is used for all four container sizes.
See the main story that goes with this sidebar: Robson's assembles a honey of a line
Companies in this article