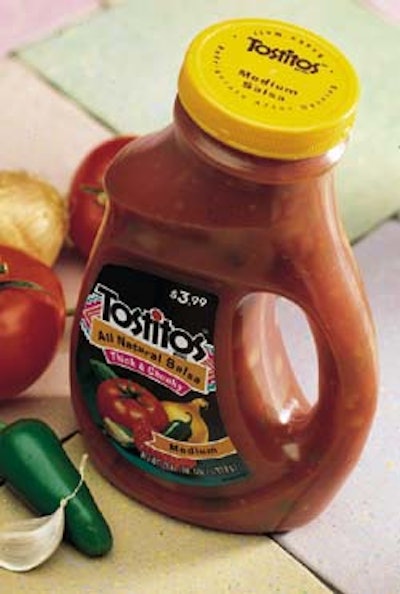 "Currently, the package is code dated for nine months, but we have shelf-life evaluation in progress to confirm a minimum of 12-month shelf life," Miller says. For club stores, Frito-Lay offers a 69-oz salsa in a bottle having similar properties.
"This container is Frito-Lay's first market entry into an intermediate package size," Miller explains. "The 28-ounce size is directed toward heavier users of salsa, but those who would never use up the 69-ounce size before it lost freshness." The 28-oz jug retails for $3.99.
Miller adds that the jug "was designed with the consumer in mind—both for functionality and esthetics." The wide-mouth opening and handle placement, he says, make it easy for the consumer to pour the salsa when transferring containers or using salsa as an ingredient. The 63-mm PP cap is injection-molded by Kerr Group (Lancaster, PA). Miller says the induction-sealed liner will soon be optimized to provide a more consumer-friendly peelable seal.
Although details about bottle development and the actual packaging process remain proprietary, Miller did reveal that the bottle is hot-filled by an undisclosed contract packager. Smyth (St. Paul, MN) prints the pressure-sensitive paper labels flexographically in eight colors.
Companies in this article