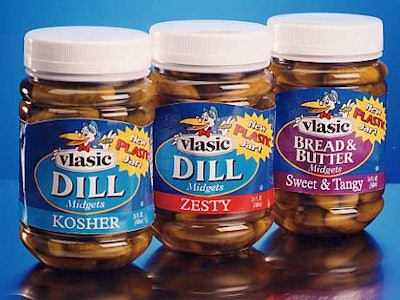 Vlasic and Coors are joining the test of plastic containers. The Golden, CO, brewer will only confirm that the plastic bottle is amber, holds 16 oz, and has mountain imagery embossed on the sidewall. Stadium venues are a key target for the test.
The heat-set polyethylene terephthalate jar from Vlasic Foods Intl., Cherry Hill, NJ. is produced by Schmalbach-Lubeca (Manchester, MI). The jar is said to be the first commercial pasteurizable wide-mouth PET food jar. In September, the jar was described in a panel discussion at PET Strategies, a conference sponsored by Packaging Strategies (West Chester, PA). On Sept. 26, Schmalbach and Vlasic both presented papers on the new container at Nova-Pack Europe 2000, sponsored by Schotland Business Research (Princeton, NJ).
Neither Vlasic nor Schmalbach cared to discuss the container at press time. But this much PW did learn:
• the jar has an 82-mm VCF C-T closure from White Cap (Downers Grove, IL) that incorporates an induction-sealed foil liner
• the container, pasteurized at 101°C (213°F), has a champagne base, crystallized neck finish and vacuum-pressure panels to help it withstand internal pressure during product cooling
• Schmalbach says its True Heat-Set® withstood 121°C (250°F) for one hour in the retort process.
Companies in this article