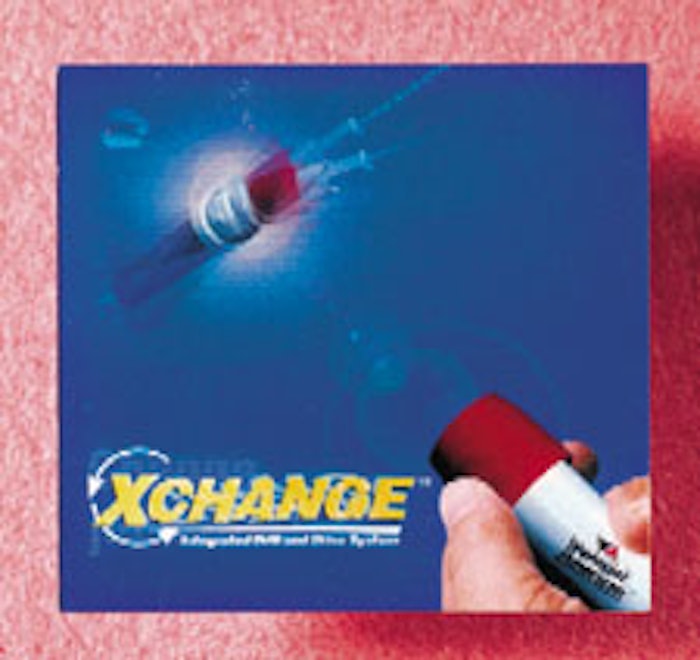 Although not exhibiting at the National Hardware Show for the first time in years, Vermont American Tool Co., Louisville, KY, has introduced a dramatic visual aid to its packaging that integrates color, imagery and motion. Launched nationally in April, the Xchange Drill and Drive System uses lenticular technology from Kodak Dynamic Imaging (Rochester, NY) as part of the packaging, which also comprises two friction-fit polyvinyl chloride thermoforms and a full-color paperboard insert. For Xchange, the imagery makes the tool's interchangeable components appear to flip and rotate into the tool base.
The lenticular technology consists of imagery on a 2'' x 2'' square of Eastman Chemical Co.'s (Kingsport, TN) PETG polyester copolymer that's made up of lens-shaped ridges or lenticules. The lenticular has an emulsion coating on its underside that retains an image. The image has been processed using special software that transforms the original image or images into as many as 30 parts so that it can be viewed properly through the lenticular lens. The ridges simulate movement to deliver a dynamic, eye-catching effect. A p-s base on the lenticular enables it to be affixed to the paperboard insert.
The lenticular, which replaces the middle of three product photos on the right side of the paperboard insert (below and close-up above), interlaces 30 separate images, says Vermont American launch manager Doug Collins. Collins pushed through the use of the lenticular during prelaunch tests when he felt that photography alone wasn't doing the job.
"Lenticular imaging helps us better communicate the unique benefits in a way that still photography cannot," says Collins. "Importantly, the new packaging allows consumers to view each separate component and its function in full motion." Vermont American uses lenticulars on the two most expensive of the three products in the line, which retail from $12.99 to $24.99.
Besides buyers, the packaging has also drawn the attention of Wal-Mart, which has "jumped on it," says Collins, informing PW, that the products will be available in the chain's stores by year's end. "Packaging played a big part in that. When you watch people with this, watch the buyers, they get fixated on it.
"It works great," Collins sums. "Although we can't put lenticular images on every product, we do have plans to use them again in the future."
See the main story that goes with this sidebar: Hardware products renovate with packaging
Companies in this article