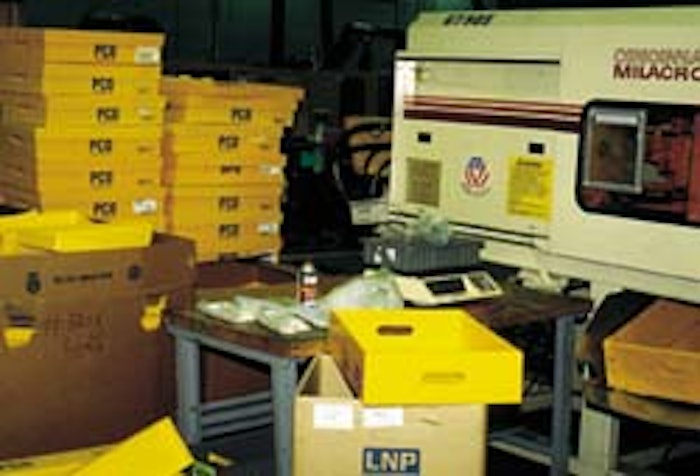 The combination of economic and perceived environmental advantages recently persuaded Pitney Bowes to replace corrugated paperboard boxes with plastic corrugated containers. The company's Danbury, CT, facility uses the "totes" to ship its injection-molded postage meter and mailing machine parts to other PB plants for final assembly.
"Pitney Bowes' top-level management wanted to get rid of corrugated boxes to prevent them from going into dumpsters and into the waste stream," comments Rick Beazley, the plant's materials manager. "We were spending $100ꯠ a year or more on [paper] corrugated. If the corrugated boxes were returned, we could reuse them, but no more than about five times."
The Stamford, CT-based maker of postage/mailing machines turned to its packaging supplier/distributor Bicknell & Fuller (Lowell, MA) for an alternative. B&F recommended that PB try plastic corrugated totes manufactured by Mills Industries (Laconia, NH). PB began using Mills' patent-pending Milform containers in 1998, ordering 25ꯠ totes with telescoping tops.
Mills fabricates its Milform containers from 6-mm-thick corrugated sheet made by what the company refers to as a profile-extrusion process. Made from a blend of copolymer polypropylene and high-density polyethylene, the sheet then goes through thermal scoring, folding and edge welding that forms it into the Milform box or cover. Mills made the custom thermoforming machine.
A separate "die" is made for the precise dimension of each tote size. Mills earned recognition when the Institute of Packaging Professionals bestowed an AmeriStar award on the Milform process in 1999.
Round trips
Pitney Bowes refers to the Danbury plant as its Plastic Components Operation (PCO). It makes parts ranging from the size of a dime to 1 sq'. The plant makes 18 different parts, shipping them by truck 32 miles to the Stamford facility, or by air to a plant in the United Kingdom. PCO uses four tote sizes, ranging from 23 ¾" to 34"x6 ½" to 23"x5 ¼" to 8 ¼". Three of them are made by the Milform process and come preassembled. A fourth size comes knocked-down. Only its cover is a Milform piece.
PCO orders all of the totes through B&F and manually erects them. Operators pull parts as needed from inventory, placing parts into the totes. A pressure-sensitive label is affixed to a placard label on each tote for part identification. A special adhesive allows these p-s labels to be easily removed, leaving no residue. The permanent placard labels come from The Kennedy Group (Willoughby, OH). Bar code, part information and number, and manufacturing date are printed onto the p-s label by one of two ink-jet printers from Intermec Technologies (Everett, WA).
"The totes are used every day or two, making as many as 10 round trips per day," Beazley estimates. From Stamford, operators carefully stack totes into large gaylord containers for shipment back to Danbury. The lightweight totes are easy for Pitney Bowes personnel to stack. Two of the four versions the company uses are nestable.
Happy 'customers'
Back at Danbury, returned totes are visually and manually inspected. Dirty containers are collected and then sent for cleaning to a third-party company about five miles from Danbury. "They employ physically handicapped people to wipe them down," Beazley says of the Brookfield, CT, facility of Burnham (Atlanta, GA). "We have them cleaned because we don't want any contamination on the totes."
Beazley says the people at the Stamford plant love the totes. Currently, Pitney Bowes is not shipping any products in the Milform totes to any of its external customers. "If a customer wants the box, we offer it, but at this point we're using it among our own facilities," Beazley says of the bright yellow totes.
The totes cost from $6.60 to $10.05 each, with tops from $2.25 to $5 each. Beazley estimates the totes "represent about a 50-percent upcharge" compared to the cost of corrugated cases. But the durability of the plastic compared with the paperboard is a significant benefit, according to drop, burst, puncture, edge and flat crush tests done for PB to compare the two types.
"In order to justify using plastic corrugated, we did some evaluating," Beazley says. "By using the totes, we immediately save $100ꯠ a year not having to buy corrugated boxes." He estimates that many of the original plastic totes have made between 200 and 300 round trips so far. He says the company will recoup its investment after two years. "We originally forecast 200 round trips per plastic tote compared with five for corrugated paperboard, and we're finding that the plastic totes will be able to make many more trips than we expected."
Beazley adds, "We haven't had to buy any new totes since our initial purchase. We plan to order more this year because we have the money in our budget to do so. But we're not buying them because the others have worn out, but because our volumes have gone up."
Companies in this article