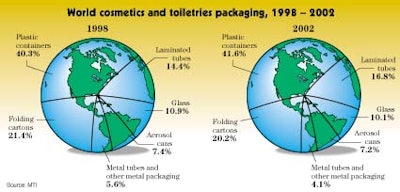 Is the marketing of cosmetics and toiletries truly a global business? According to new research, the top 10 manufacturing companies generate nearly two-thirds of all global sales of these products. That figure is just one conclusion gleaned from a research report, "World Cosmetics & Toiletries Packaging, 2000-2005," published in April by Market Tracking Intl. (London, England).
In total, the report says, the worldwide market for cosmetics and toiletries packaging reached $8.5 billion in 1998, and was predicted to reach the $9 billion mark this year. Packaging for the category is expected to total $10.5 billion by 2005. The growth rate has fluctuated in recent years, from increases of nearly 14% in '95 to 4.6% the following year. Last year, the growth rate for the value of packaging for cosmetics and toiletries was a weak 5.7%, due largely to pressure on the global economy.
Within packaging, plastic containers make up the largest segment, at slightly more than 40% in '98 (see chart). If plastic laminated tubes were combined with containers, the overall plastic packaging was predicted to have reached nearly 55% in '98.
Metal and glass containers are expected to see the greatest declines for the period '98 to '02. Although the share for metal aerosol cans will decline slightly, the share for metal tubes and other metal packaging is predicted to drop by more than one-fourth. Over the same four-year period, glass packaging's share of the market is expected to drop by more than 7%.
The report also addresses the collapse of the merger among Alcan, Pechiney and algroup. This development runs counter to one of the strongest trends in packaging: consolidation of packaging suppliers. In discussing the dominance of large manufacturers like Revlon and Avon in this segment, the study strongly states that these companies are working hard to reduce the number of suppliers they buy from, and this contributes to even more consolidation of packaging vendors.
The report divides the global market into its three key areas: Europe, the Americas and the Asia-Pacific region. It also shows statistical breakdowns of packaging selections by product and covers the leading packaging suppliers and cosmetics manufacturers. Cost of the report is $2귲.
In a hurry? Request more info via Web-based reader service by clicking on the reader service number.
Or you can jump right to their Web site.
Companies in this article