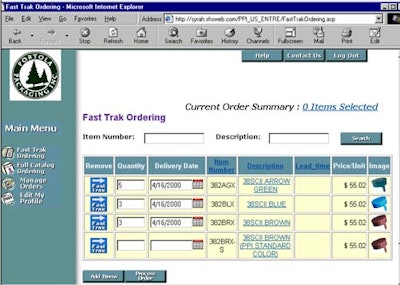 One supplier that offers this service is San Jose, CA-based Portola Packaging (www.portpack.com).
Jim McGann, purchasing agent at Bell Dairy in Lubbock, TX, was one of Portola's first customers to use the site. McGann says he has ordered caps online three times for Bell Dairy's gallon and half-gallon milk jugs, and plans to continue using it. "Now I don't have to mess with a fax machine, and don't have to worry about [the fax machine's] busy signal," McGann says. "I know that once I've hit the submit button, [the order] has gone directly to the plant." McGann adds that ordering caps on Portola's Web site takes half the time of faxing in his order.
Available to Portola's customers since early December, the site is still in the early stages of its rollout. "We're doing it in a very controlled manner to make sure that the pricing and the customers' products are correct," says Joe Buchanan, vice president of Portola. "We don't want anyone having bad experiences at this critical time, so we haven't put a link to it on our main Web site yet."
When Portola customers log in to the site, they are on the fast trak ordering page, whick is set up by Portola sales reps to reflect what the customer usually orders. Each cap and label the customer orders is represented by a color thumbnail image that, when clicked, expands into a bigger, more detailed photo. An item number and product name accompany each cap, as well as the price per unit. Buchanan is hoping that these features will solve the abundance of "misorders" Portola receives when customers fax or call in their orders. "A common order was: 'Send me 1ꯠ of those red caps with the label on them.' If there were a change in personnel [at Portola], they wouldn't know what that guy meant by 'red caps,'" he says.
Customers type in the quantity of caps they want to order and the date they want them delivered (a click on an icon gives the option to enter the date on a calendar-like grid). Clicking the "submit" button routes the order to Portola customer service. A confirmation e-mail is then automatically sent to the customer stating that the order has been successfully submitted. Other features on the site include the ability to check the status of an order, conduct a full catalog search and check billing information.
Saves time, money
Initially, Portola attempted to buy software to build the site itself, but that avenue proved cost-prohibitive. As a solution, Portola created Sand Hill Systems (www.sandhillsystems.com), a company that sells e-commerce solutions to the packaging supplier industry.
According to Buchanan, the site saves time and money for both Portola and its customers. He adds that customers should see a savings on their end due to less paperwork and entry time, as well as productivity gains from not having to call Portola to track down an order.
Buchanan says that currently only a fraction of Portola's customers are using the site to order caps. "Is [the site] going to be widely accepted and rapidly used? I don't think so. We surveyed all the [customers] who call us, and we found that only 25 percent have Internet access."
But for the customers who do order closures online, the site is designed for convenience. Says McGann, an admitted Internet novice, "It's easy enough that even I figured it out."
Companies in this article