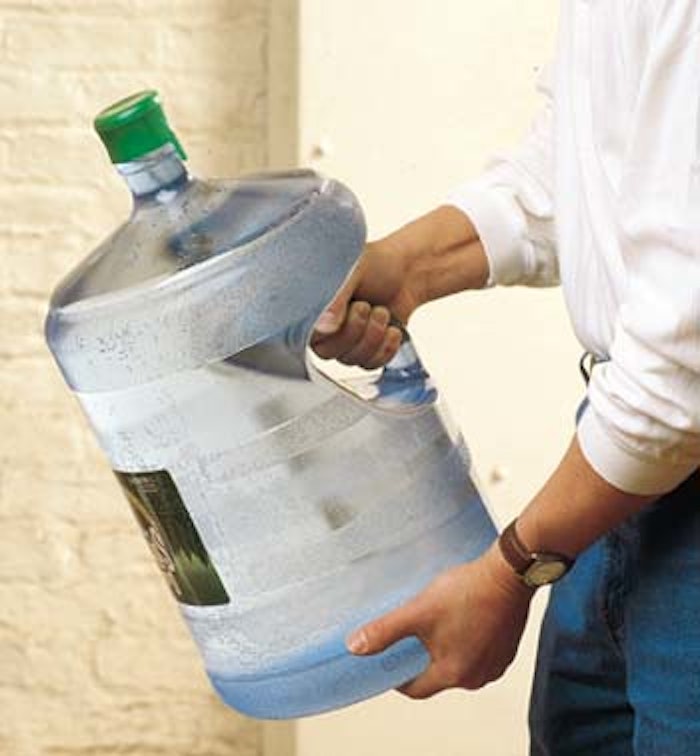 Many office workers have had the frustrating experience of struggling to position a heavy water bottle onto a cooler. Perrier Group of America attempts to ease the task with its new 5-gal round water bottle with an ergonomic angled handle that is molded into the bottle. The returnable/refillable handled bottle permits a better grip, and the round shape is less cumbersome than Perrier's original 6-gal rectangular bottle, which the company expects to phase out.
"We had this very difficult-to-grasp product that was also too heavy," says Christian Randhahn, purchasing manager for Greenwich, CT-based Perrier. Empty bottle weight is reduced to 2 lb with the redesign, which is about 15% less than the previous 6-gal bottle. However, the real news is not in bottle lightweighting, but in the addition of the handle.
Perrier's Poland Spring® brand has been rolling out in the new container in the Northeast U.S. since April '99. A gradual rollout of other brands is currently under evaluation.
Liqui-Box (Worthington, OH) extrusion blow-molds the new bottle of Lexan® polycarbonate from GE Plastics (Pittsfield, MA). According to Randhahn, Lexan was the resin of choice because of its superior melt strength, which makes it easier to handle in its molten state. Randhahn adds that it's too early to estimate how many trips the bottle can withstand.
Cradle won't rock
Three years of extensive development and testing were involved to bring this bottle to the market. Perrier worked with Innovation & Development, Inc. (Edgewater, NJ) and GE Plastics on the design.
Perrier wasn't going to allow this labor of love to be transported on ordinary flat, metal racks. Previously, Perrier used metal racks to transport the bottles via truck to consumers. According to Randhahn, metal racks lead to stress on the bottle from resting on a single point of contact, which can result in bottle breakage. Perrier found a solution with the ProStack™ modular rack system from Polymer Solutions Intl. (Medford, NJ). These patented high-density polyethylene circular racks have a cradling effect because they fully surround the bottles. Racks use 360? pockets to protect the bottles from impact, and they interlock to keep the entire load stable during transport.
"If we just redesigned the bottle and used traditional racks, we probably would have seen as much breakage as is seen on five-gallon round bottles with no handle," Randhahn says. "But being able to cradle the bottle with the new rack greatly improves the life of the bottle."
Automation
Along with the new bottle and rack system, Perrier also invested in proprietary material handling equipment. Many companies in the water bottling industry require operators to manually take the bottles off the racks and place them on the filling line. Randhahn says that with the new packaging equipment, manual bottle handling is now automated, thereby increasing efficiency and reducing operator strain. "Filling line operators are overwhelmingly in support of the bottle," Randhahn says. "They no longer have to unload the racks by hand." Randhahn wouldn't divulge specific information on the new packaging machines.
And what's a new bottle without a new label? Perrier redesigned its Poland Spring label with green pine trees as an added graphic element. The new pressure-sensitive label is also about 2" longer than the previous label to better accommodate the new bottle size. All Poland Spring bottles, from 8 oz to 5 gal, use this new label.
Randhahn is pleased with the success of the 5-gal handled water bottle. "This bottle is a home run on three fronts," he says. "The first is with customers. They now have a package that has been ergonomically designed to ease consumer handling. Next is the reduced workload on our filling lines as well as through the delivery process. The last is reduced bottle breakage due to the superior geometry of the new bottle and the improved rack system."
Companies in this article