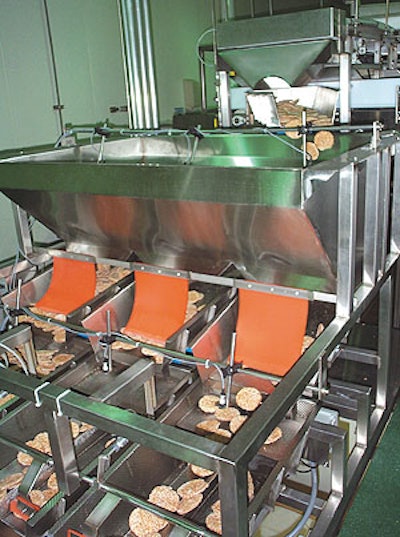 North Side Foods Corp. of Arnold, PA, produces cooked sausage patties and links under the Ember Farms brand for a variety of foodservice accounts. In addition, under the McDonald's brand, North Side packs cooked sausage patties for Oak Brook, IL-based McDonald's Corp.
Until recently, North Side manually packed its products in waxed corrugated cases. Now, a 2.25-mil polyethylene pre-made bag supplied by Bag Pack (Cincinnati, OH) is automatically filled with product, sealed, and placed in shipping cases that are taped automatically.
"We were the only national company on the cooked sausage side that didn't have some type of sealed container inside a case," says Ed Fornadel, key accounts manager. "With this change, we're on a level playing field with our competitors."
In February, North Side invested more than $1 million for three new packaging lines to automate its packaging operations. According to Gina Turoscy, vice president of operations, North Side shaved labor costs by 10% when the new equipment went in.
"The manual packaging method that we were using prior to this was very labor-intensive," she says. "Our employees started to have occurrences of repetitive motion injury."
Paul Kafer, director of engineering and maintenance, relied on the expertise of distributor Capitol Automated Systems (West Chester, PA) to assist in finding efficient equipment. "We needed machines that could handle high volumes," he says. "We wanted to offer our customers a large enough bag size that wouldn't increase cost in packaging material."
At the heart of all three lines is an Ohlson Packaging (Middleboro, MA) bulk-and-dribble scale and a Model WBS-918 wicketted bagger from JMC Packaging Equipment (Burlington, Ontario, Canada). "Capitol helped us make sure the two machines would talk to each other correctly and that the transition would be correct," says Kafer.
North Side is expecting more than a 10% increase in throughput. Turoscy says, "Manual packing has been somewhat of a bottleneck as well to how quickly we can process our product."
"By automating, we are able to process and package at maximum efficiency," adds John Gallagher, director of operations. More than 200ꯠ lb of product is being produced per day.
Automation makeover
Each of North Side's three new lines consists of essentially the same components: case erector, two case labelers, bulk-and-dribble scale, bagger, and case taper. One key difference distinguishing each line from the other is in the number of weigh buckets each Ohlson machine has: four, three, or two. A close look at packaging line three, which is dedicated to patties, illustrates how all three lines operate.
Case erecting of single-wall cases is done one floor up from the actual filling room. A case erector from Wexxar (Delta, B.C., Canada) uses an erecting system that relies on a series of pin-and-dome fixtures mounted on the plates of the forming jaw. Pins enter the fluting of the case blank and press against the steel dome when the forming jaw erects a blank from its knocked-down position. The result is a controlled grip instead of a possible loose grip that may result from a vacuum suction cup.
Erected cases are conveyed next to a pair of thermal-transfer print-and-apply pressure-sensitive labelers from Paragon (White Bear Lake, MN). One labeler prints and applies a label on the side of each case. This label is preprinted with name and logo of the foodservice customer for whom the product is being packed. The Paragon labeler adds item-specific information such as ingredients and nutrition statements. The second labeler prints and applies a bar-code label on the leading panel of each case. Foodservice customers scan the bar codes for information that helps them manage inventory as it moves through their system.
Erected and labeled, cases are conveyed down to the filling room to meet up with filled bags. Bag filling begins at the Ohlson four-head bulk-and-dribble scale, which has frozen patties conveyed to it directly from a spiral freezer. The patties drop into a pivot pan conveyor that constantly swings back and forth to deliver patties evenly to all four weigh bucket infeed conveyors.
Each weigh bucket has its own load cell. When bucket number one reaches the target weight, whether 5 or 10 lb, the scale's programmable logic controller (PLC) knows that the bucket has the correct amount ready and waiting. So when the bagger's PLC signals the scale's PLC to dump product into a bag, the scale's PLC knows that it's okay to drop product from bucket number one.
This line was designed with four weigh buckets, rather than two or three like the other lines, because it packs the lighter bags, the 5- and 10-pounders. The other two lines are used for a 17.5-lb bag. When the target weight is lower, the dump frequency is greater than when target weights are high. To make sure that at least one bucket is filled with the correct weight and ready to dump when the bagger needs product, it makes sense to have four buckets being filled and weighed simultaneously on the line used for the smaller 5- and 10-lb bags.
Simply secure
The baggers were tailored to meet specifications, including empty/low bag sensors and a curved chute to allow for a more gentle bagging process. North Side runs the baggers two shifts a day at 7-12 bags/min, though their top speed is 16 bags/min.
Filled and sealed bags exit the bagger and travel across an Ishida checkweigher from Heat and Control (Hayward, CA). Case packing is done manually. The case then travels across a shaking conveyor developed by JMC to settle product. This conveyor vibrates the case and allows the packages inside to flatten out. This makes it easier to tape the cases.
Case-taping is done by a Belcor (Richmond, B.C., Canada) machine with a rated speed of 20 cases/min. North Side runs in the range of 12 cases/min. Director of operations Gallagher appreciates the added security that comes with taping.
"Even though the coated cases we used to use were taped shut, there was always a chance for tape failure," says Gallagher. "Now it's a more secure pack." In addition, a more secure pack is a result of changing from a bliss-style case to an RSC.
Taped cases are manually palletized due to space constraints that would not allow a palletizing robot.
In evaluating the advantages gained since the new equipment was installed, Gallagher sums it all up in two words: simplicity and sanitation. "The product is virtually untouched by human hands."
According to Kafer, the feedback from customers has been positive. "The sealed bags give them easier handling in freezers in restaurants."
While the progress made at North Side's Arnold plant is impressive, the firm has also been busy upgrading its Cumming, GA, plant, where a new packaging line was installed in February '01.
For more on the new Cumming, GA
operation, see: packworld.com/go/w023
Companies in this article