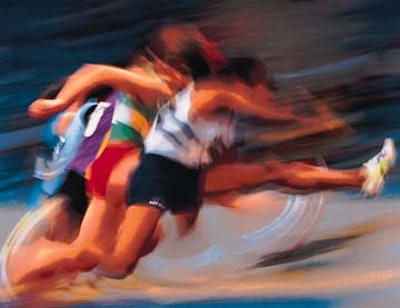 The U.S. Food & Drug Administration's new "fast-track" food packaging approval program finally opened for business on Jan. 18. As this issue goes to press, a decision has not been made as to whether the fast-track program will occupy its own office separate from the food and color additive petition office, which has existed all along. Both will undoubtedly stay within the Office of Premarket Approval. Although this seems a bureaucratic matter, one FDA official says the decision—two separate offices or one combined—could have significant implications on packaging approvals.
Congress appropriated $6 million for fiscal 2000 for the fast-track program. The formal name will be the Food Contact Notification program. It will allow food processors to put a new product on the market 120 days after they notify FDA, unless the agency flashes a red light. The 120-day program is expected to be open to nearly all indirect food additives, which formerly had to go through the food and color additive petition process. That could sometimes take years.
Manufacturers of food-contact substances will be required to use the full petition route when the material meets one of the following two criteria: When a resin in the package has a cumulative dietary concentration of more than one part per million (200 ppm for biocides), or when a material has unresolved questions regarding its carcinogenicity.
Steve Hentges, a representative of the American Plastics Council, says, "Our members are excited about the program. It looks good to us."
Opening door to innovation?
Hentges believes that resin manufacturers will now proceed with what might have been formerly considered "marginal" packaging innovations. A company might have forgone those commercially risky resin/packaging projects because anticipated regulatory delays at FDA would skew a cost/benefit analysis against the project.
Substantiating Hentges' view that the FDA program may usher in a Golden Era of packaging innovation is FDA's own estimate that it will receive 500 fast-track applications each year. Right now, the agency receives only about 50 food-additive and 50 threshold-of-regulation petitions every year.
Congress also gave FDA another $5 million for the existing food-and-color-additive petition program. So packaging products that for some reason qualify as food additives, thus requiring passage through the petition process, will be ostensibly handled more quickly than in the past.
"We expect to hire significant additional staff for both the 120-day and food-and-color-additive petition programs," says Mitchell Cheeseman, a top FDA official.
With regard to the new 120-day program, FDA spent the last few months of 1999 reviewing the 120 indirect food-additive petitions currently in house to see how many would qualify for the fast-track program. "Virtually all of them can be converted, but they need to be looked at on a case-by-case basis," says Cheeseman. "Some of them need substantially more data."
Long time coming
The fast-track program has been 2½ years in the making. It was authorized under the FDA Modernization Act, which Congress passed at the end of 1997. But Congress waited until October 1999 to give FDA the $6 million it said it needed to start the fast-track program. That $6 million was included in FDA's fiscal 2000 appropriation.
Because it had to wait to see whether congressional funding would be forthcoming, FDA had not been in a full sprint to prepare all the guidance documents and the federal rule that establishes program guidelines. Toxicology and chemistry draft guidances were issued in mid-November. These were changed slightly from versions issued in March 1999, versions on which industry commented.
But because a proposed rule (much less a final one) had not yet appeared in the Federal Register, FDA officials, including Cheeseman, have been appearing at industry events such as "Future Pak 99," an SPI packaging committee meeting held in Charleston last December, and an American Plastics Council meeting in Washington, DC, on Jan. 11, to explain how the program will work.
Much of what Cheeseman and other FDA officials have been doing is explaining changes they have made from the draft program guidelines issued in March 1999.
Cheeseman says he is not sure when a proposed rule explaining the program will come out. FDA needs approval from the White House Office of Management and Budget before it can issue the proposed rule.
Few limitations
There has been some angst in the industry over the possibility that FDA would limit the kinds of resins and formulations that would be eligible for the program. That concern has ebbed with FDA's concession that indirect additives—which no one doubts are covered—and "secondary" direct food additives (as long as they meet the definition of food-contact substance) will both be eligible. Examples of the latter include boiler-water additives and ion-exchange resins.
In addition, the agency may accept fast-track applications for formulations in addition to single compounds. Cheeseman says, however, that no decision has been made on that score. "We'll inform people when we publish the proposed rule, which we are working to get out as fast as we can," he explains.
In the absence of the proposed rule, packaging suppliers and food companies have to depend on toxicology and chemistry guidance documents, which themselves are only drafts. FDA was required by federal law to ask industry whether these draft guidance documents pose an undue paperwork burden.
The comment deadline is Feb. 14. FDA will make these two guidances final sometime after that date.
Toxicology concerns
It is the toxicology document that has been more controversial. Last March, FDA said it might prohibit premarket notifications (PMNs) for substances whose acceptable daily intake (ADI) was less than five times its cumulative estimated dietary intake (CEDI). The industry viewed what became known as the "5-fold safety factor" as overkill.
In the new draft toxicology guidance, the 5-fold factor has been dropped. But there is language suggesting that the company submitting the application needs to talk with FDA officials prior to submitting the application if resin levels are near the 5-fold level. "All we ever wanted to do was establish a rule of thumb," explains Cheeseman.
See sidebar to this article: Label 'libel' for biotech foods?