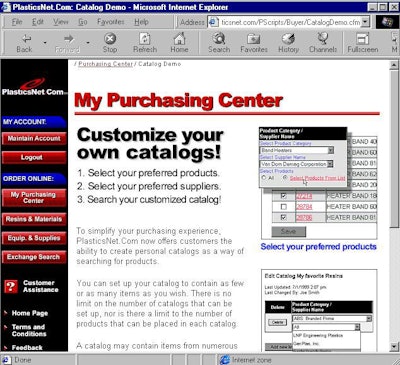 PlasticsNet (www.plasticsnet.com) is one of the leading Internet marketplaces for plastics. It brings together buyers and sellers of plastic resin (for all applications, not just packaging). From its earliest days, the site has offered the ability to purchase resins via an on-line marketplace. For this marketplace, pricing is fixed. But the site has introduced auction-style pricing for limited-supply products.
However, what's new and interesting on this site is the "My Purchasing Center" capability. You can set up your own custom catalog of an unlimited number of products from multiple suppliers. Keeping commonly used vendor and product data in one place ostensibly simplifies re-ordering. There is no cost for this service.
Paper, too
Another site that's the first Internet marketplace for paper is PaperExchange.com, at www.paperexchange.com. Like PlasticsNet, PaperExchange.com primarily serves converters and the manufacturers (the paper mills) that sell to them. The site counts more than 2군 individuals as members from more than 75 countries.
Like other Internet marketplaces, PaperExchange.com facilitates transactions by lining up an array of ancillary services, such as transportation and credit clearing services. Packaging-specific papers traded via the site include containerboard, paperboard and recovered paper.
This site has also matured quite a bit, recently unveiling version 3.0. This latest upgrade allows users to customize the marketplace to show, for example, only U.S. suppliers of paperboard products. And, like PlasticsNet, this site allows users to create a catalog of commonly purchased products. Further, the site will automatically notify you about new postings that meet your requirements.
And packaging?
While few packagers purchase resins directly, we see the Internet marketplace model in general, and the "My Purchasing Center" capability specifically, as an inevitable way rigid containers will be bought and sold. Currently, there is no established Internet marketplace for packaging containers. However, plenty of sites are gearing up to win a piece of the pie.
One site to watch is WebPac™ at www.webpackaging.com. Based in Europe and relatively unknown in this country, WebPac has assembled at its site a comprehensive, searchable catalog of rigid packaging containers and closures from multiple packaging suppliers across Europe.
Although the company is based in Spain, it is an offshoot of a British container distributor. Due to the Euro-centric nature of the suppliers, it's not very useful to U.S.-based buyers of materials. But the first company to replicate WebPac's model for the U.S. market will likely enjoy considerable success. Not surprisingly, WebPac knows this and is trying to expand its business to the North American market.