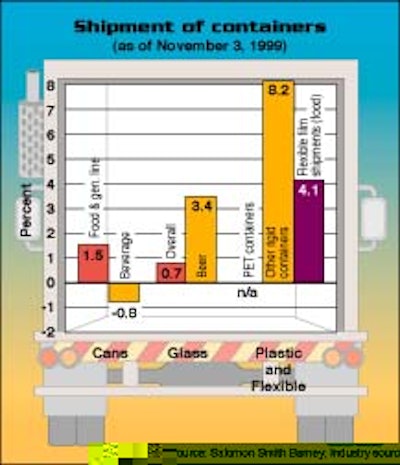 Maybe this happens because the restaurant's business is so much better than expected, and the restaurant simply ran out of certain menu foods. That seems fairly likely, now that more than half the meals Americans eat are prepared outside the home. (I think we first crossed the 50% mark last year, and I doubt we're likely to return to a preponderance of home-cooked meals.)
But why does the problem appear to be increasing? Over the years, Packaging World has published a number of stories about food manufacturers that adopt innovative packaging to help them and the restaurants they sell to avoid what in the retail trade is called "out of stock." Improved information systems, just-in-time order filling, better packaging and transportation and preparation systems--all should be creating a more stable menu and the ability to fill orders. In the face of all this new technology, why should the problem be growing more rather than less prevalent? The simple answer may be that technology is only as good as the people who use it.
Month after month, our editors review new packaging materials and containers that are designed to make more foods available at peak quality for longer periods of time. More foodservice outlets are redesigning their kitchens to acknowledge the movement of food preparation farther back down the supply chain. Unless the unit managers are better trained to understand inventory and demand, improved technology becomes unimportant.
Paper vs plastic?
And there's one other factor that must be included in any harangue about foodservice failures: the take-out containers. Many of us, particularly as we approach our golden or platinum years (thank you, Visa and Mastercard), find that an expensive dinner can produce an extra-special lunch or dinner later. But when we ask for a portion to be "doggy-bagged," the packaging used for what essentially is a "carry-out" meal is often inadequate to the task of transport home and reheating with care.
One frame of reference for this is a local diner that has done an especially fine job of preparing cheeseburgers and French fries for consumption at home, although not necessarily for healthy arteries. This Saturday lunch tradition now comes with an extra fee of 50¢ for carry-out. But carry-out is still a paper bag displaying prominent grease stains (even with double-bagging) that must be transported in the car's trunk or else it attracts critters to the car's interior.
So why the extra charge without extra protection? Take-out eliminates the need to prepare (and later wash) baskets or dishes, and we free up a stool at the counter for another customer quickly. Why charge for a waxed-paper wrap and kraft-paper bag that had been provided free in the past?
Inadequate packaging performance may be the reason some purveyors of fast food are evaluating a new all-plastic bag called M2K from Pinnacle Products (Tampa, FL), by way of an Amplas (Green Bay, WI) bag-making machine. What makes this patented bag design a real contender for take-out is that it's translucent, has a flat bottom, is easy to open and has handles for easy carrying. It's called the "paper emulator" by Amplas because of the stiffness of the sidewalls. Burger King admits it's testing the bag, possibly as part of a newly designed drive-through operation.
According to a story in Restaurant Business magazine, this "clear-view" bag allows consumers to verify that the bag contains everything a consumer ordered and paid for. The bag is apparently part of a restaurant prototype test in Reno that doubled the sales of the former restaurant in the early weeks. Unfortunately, all the fast-food chain will say now is that the high-density polyethylene bag remains in testing. And BK suggests that the test, begun this spring, is likely to last several more months. Many benefits are claimed by the maker, but Burger King declined to discuss its experience.
Paper bag makers need to understand that their current stranglehold on this sizable market may be seriously threatened--even if Burger King franchisees don't sign on with the new bag. Some chain surely will, if only to offer something different to its stores and their customers. And the plastics people are watching the tests with the same anticipation displayed by hungry customers of these quick-service restaurants.
Both last month and this, PW provides some interesting examples of how some restaurants deal with delivery (or take-out) of hot, cooked foods with both style and function. We would have liked to share Burger King's experiences with its new bag. Plus, many observers had high hopes for the McDonald's/Earth Shell test of a biodegradable sandwich clamshell that has apparently been withdrawn.
New technologies--and old ones, too--may provide an attractive and efficient carry-out container that will be appreciated by the restaurants and customers who use it.
Companies in this article