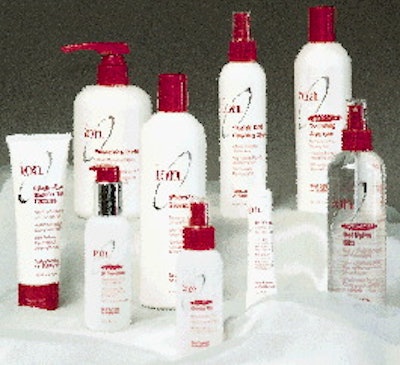 The world's largest distributor of professional beauty supplies, Sally Beauty Co., Inc., needed new packaging to unify the appearance of its line of ion hair-care products. With 35 products in the line-some in tubes holding no more than 1 oz and others in high-density polyethylene bottles holding 32 oz-and 27 different packaging components, the task was daunting. But it was made considerably easier because the Denton, TX, firm relied on container distributor Kaufman Container (Cleveland, OH) to pull it all together.
More than anything else, Sally Beauty wanted to bring its look into the 21st century. "The line is about twenty years old, and it needed a redesign," says Susan Walker, vice president of marketing at Sally Beauty. "We had added some additional products and used a variation of the logo a couple of times. We changed the colors, but we never did a redesign."
After the initial decision to redesign the product line, sold exclusively through Sally Beauty outlets nationwide, the company contacted design company Katherine Frank Creative (Chicago, IL). It called in Len Kulka from Clariant Polymer Color (McHenry, IL) to assist in the development of new package colors. During a meeting with Kulka, the designers and Sally Beauty, Kulka realized that Katherine Frank needed more than just a color expert. It really needed someone who knew packaging and could pull all the components together. That's when Kaufman Container entered the picture.
Within a week of the initial meeting, representatives from all four companies met in Chicago. At this meeting Sally Beauty decided it would no longer work with many different contract fillers whose supply of Sally Beauty packaging materials lacked central coordination. Instead it would work with just five contract fillers located strategically throughout the country, and all packaging components would come through Kaufman Container.
"With multiple contract fillers, each buying from different vendors, we had a hard time keeping the inks correct and consistent," says Walker. "By using Kaufman as the 'clearing house,' we have a more cohesive, upscale look. To the customer, it looks like a professional line, which is what it is. We target the professional hairdressers and salons. Of course we are also open to the retail public, but our target market is the professional hair stylist and salons."
To start the redesign off right, Therese Melick, account manager at Kaufman Container, started researching bottles, closures, sprayers and pumps. After a lot of meetings, packages and specifications were narrowed down and everything from custom-color bottles to ink standards were approved. A key partner in this process was Clariant's Kulka who helped Sally Beauty and Kaufman find the right colors and structures for the bottles. They identified a target color and tested it thoroughly. "We then gave a spec sheet to Kaufman," says Kulka. Kaufman then instructed all of the suppliers to follow the specs. Virually all containers are made using a pearl-white color and all closures and dispensers are made using a pearl-magenta color.
New shapes, too
In addition to bringing cohesiveness to the look of the line, the redesign team changed the shapes of some packages. The 16-oz HDPE bottle for Balanced Cleansing shampoo is a good example. Extrusion/blow molded by Silgan Plastics (Fairfield, OH), the bottle now has a rounded shoulder instead of a squared-off look. It's topped by a smooth-wall disc dispenser supplied by Seaquist Closures (Mukwanago, WI).
Another obvious difference between the two bottles is the graphics. Originally, the bottles for the Balanced Cleansing shampoo, like most of the other bottles before the redesign, were printed with either two or three colors accompanied by hot stamping. Now the bottles are screen-printed in one color and hot-stamped in silver.
Walker says she's very happy with the new design and the consistency that has been achieved across the entire line of products. "The customers love it," Walker says. "They think it's much cleaner and modern."
Companies in this article
Videos from All Packaging Machinery Corp.