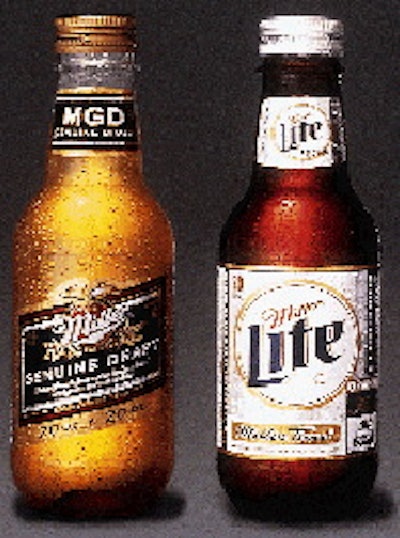 (CPT) (Florence, KY).
Until this startling development, Miller had been considered (by those of us who obviously didn't know better) one of the American brewing industry's pack runners when it came to plastics, not one of the world's packaging pioneers (story, p. 38).
That all changed when Miller started marketing Miller Lite, Miller Genuine Draft and Icehouse beers in five-layer, oxygen-scavenging plastic bottles (see photo) that promise to keep the beers as fresh as glass bottles or aluminum cans over a four-month period.
That's a remarkable achievement.
In fact, if Miller, CPT and a handful of other packaging technology developers working in secret on this development succeed, it will be the most significant beverage packaging advance since the commercial introduction of PET bottles for carbonated soft drinks 20 years ago.
Miller is test marketing its beers in 20-oz and 1-L plastic bottles in a half-dozen markets: Los Angeles, CA; Phoenix and Tucson, AZ; Norfolk, VA; Miami, FL; and Dallas/Fort Worth and San Antonio, TX. Further rollouts will depend on retailer and consumer reaction to the plastic-bottled brews. Miller notes that its new plastic bottles are substantially lighter than near-comparable-size glass bottles. Still, the new plastic bottles for beer are heavier than the same-size bottles used for carbonated soft drinks. Compared with Miller's 22-oz glass bottles weighing 340 g, the 20-oz plastic bottles weigh only 43 g. The 1-L (33.8-oz) plastic bottles weigh a mere 56 g vs. Miller's 32-oz glass bottle weighing in at 392 g. The plastic bottles carry a "1/PETE" resin identification code and reportedly cost a little more than twice their glass "near equivalents."
While Miller's plastic bottles were first spotted in convenience-store coolers, the brewer is promoting them as "all-terrain" containers that can be used "in places such as in stadiums and at picnics or concerts, where glass bottles and cans are not as convenient."
As this column goes to press, the specific material composition and architecture of Miller's new bottles remains the focus of considerable industry speculation. CPT isn't saying publicly what it is. And Miller is saying only that the bottles include two materials with five layers. Avoiding specifics, Miller goes on to say: "The inner and outer layers, which come in direct contact with the product and the consumer, are made of plastic. A third, center layer of plastic is surrounded on both sides by the special protective barriers." Until bottles from the field can be analyzed, our guess is that the bottle walls consist of (from the outside) PET/barrier/PET/barrier/PET. The core PET layer may be composed of post-consumer recycled PET.
Close readings of CPT's applicable patent work, which covers a variety of structures, suggests the two thin mysterious barrier/scavenger layers in Miller's bottles are composed of a "catalyzed, oxidizable polyamide," probably MXD6, which may go by the code name CPT 312. CPT, of course, is confirming none of this.
Two of Miller's plastic-bottled brews are essentially new products: cold-filtered Miller Lite and cold-filtered Icehouse. Up until now, those were pasteurized beers sold in amber glass bottles and aluminum cans. They are marketed in brown plastic bottles. The third beer, Miller Genuine Draft, has always been a cold-filtered brew marketed in flint glass bottles. It's now available in clear plastic bottles. All six of Miller's brand/plastic bottle size combinations have 38 mm finishes sealed with aluminum roll-on closures from Silgan Containers Corp. (Woodland Hills, CA) and ZapatA® Industries, Inc. (Muskogee, OK). A multilayer barrier polymer liner used in the closures is designed to prevent O2 from getting in and CO2 from getting out of the bottle through the closure.
As remarkable a technological achievement as Miller's plastic bottles themselves are, Miller executive vice president Virgis Colbert suggests that there's an unfolding economic story to the bottles that's yet to be told. "Our new plastic bottle ensures product integrity and drinkability, guaranteeing that our customers always receive the freshest beer possible," says Colbert. "And we're able to do this at a retail price that's competitive. That's a critical factor, and we're proud that Miller is the first U.S. brewer to solve the plastics puzzle."
The plastics-for-beer puzzle, of course, is just the first of three puzzles Miller must solve before declaring the remarkable work that it and its packaging partners have done a success. Marketplace (vendor and consumer) reaction and total system economics are the remaining puzzles. Everyone's going to be watching to see how Miller's technological achievement fares in the marketplace after the professional buyers deplete the early stocks. Internally, Miller will be working with its partners to audit and reduce the "total system" costs of its new bottle.
This bottle will certainly win its share of awards. But its ultimate success will hinge not only on consumers' reactions to it, but also on Miller's ability to cut total system costs to or below those of glass bottles and cans. To be a marketplace and business success, the plastic bottle must become the consumer-preferred, value-added, low-cost package. Miller's new bottle is an elegant solution to the plastics puzzle and an exciting beginning to Miller's plastic bottle story. But it is only that-a beginning.
Ben Miyares is editor/publisher of the weekly e-mail/fax newsletter, Ben Miyares' Packaging Management Update, a resource of the Packaging Machinery Manufacturers Institute. He may be reached at 31408 Narragansett Lane, Bay Village, OH 44140-1068. Telephone: 440/892-0998; fax: 440/892-0208; e-mail: bmiyares@packmgmt.com.
Companies in this article