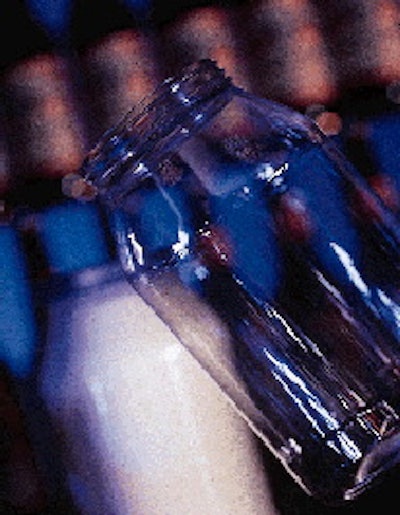 Martin Gillet and White Rose Foods see PET as a likely choice for mayonnaise packages in the future.
They credit their mayonnaise in PET introductions to a joint study spearheaded by Grafco PET Packaging Technologies, closure vendor Phoenix Closures and food science researcher Guelph Technologies (Guelph, Ontario, Canada).
In 1997, Grafco approached about a dozen mayonnaise manufacturers about the possibility of using PET containers for the product. The companies were asked what barrier properties, shelf life and economics they would need to seriously consider shifting to PET.
A key concern was the possibility of paneling. "Normally, paneling occurs when hot-filled product cools," notes Lindsay Mulholland, Guelph's manager of applied research group.
"But you don't have that with this [ambient temperature-filled] jar," he continues. "What you have is a product that reacts with oxygen in the headspace and consumes a portion of that oxygen. That creates a vacuum. It doesn't take much pressure to draw in the sides of a PET container. PET isn't perfect, but it has a good barrier against oxygen ingress."
The use of preservatives, which were also used for glass, helps delay paneling. "If there are no preservatives in the product, paneling could occur in three to four weeks," says Tom Frank, Grafco's vice president of operations and new business development. "When preservatives are added, paneling will take about four months," he estimates.
To overcome the potential for paneling, Grafco has developed two jar alternatives. One jar design has three ribs that circle the bottle. Another is the use of liquid nitrogen dosing to purge oxygen from the headspace. Grafco marketing manager Scott Gowland says White Rose uses the ribbed bottle while Martin Gillet opts for the nitrogen dosing.
Addressing shelf life, cost
Shelf life for both products is in the 18-mo range. Shelf life, or the perceived lack of it, was a hurdle Grafco had to address in trying to convince manufacturers to use PET for mayonnaise. "In talking with these manufacturers, we anticipated some loss of shelf life going from glass to PET," admits Frank. "Glass is impervious to oxygen, and so is the metal closure."
"To provide satisfactory barrier properties and shelf life, we initially thought PET containers had to weigh as much as 58 grams," recalls Gowland. "And at that weight, PET was a lot more expensive than glass."
Grafco purchased an Aoki Laboratory America (Elk Grove Village, IL) 1000 single-stage machine to produce the containers for Martin Gillet and White Rose. With the Aoki, Grafco produces a mayonnaise jar that weighs only 38 g, making it economically competitive with glass. The lightweighting was said to be possible due to a combination of the resin and molding equipment. This lightweighting was enough to help persuade Martin Gillet and White Rose to venture into PET.
Grafco estimates that approximately 700 million containers are used annually for the 32-oz mayonnaise size. And 40% to 45% of that volume is accounted for by regional manufacturers.
Companies in this article