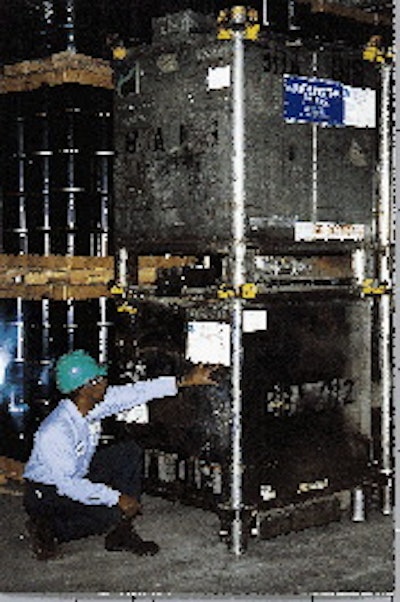 A 400-gal reusable stainless-steel intermediate bulk container (IBC) has replaced one-way steel drums for a supplier and buyer of aroma chemicals used in formulating cleaning and personal care products. When Bush Boake Allen's Aroma Chemicals division in Jacksonville, FL, began selling its products to a leading consumer household products manufacturer, that key customer had specific design criteria for an IBC that would work properly in its manufacturing plants.
Together, BBA, the customer, and Hoover Materials Handling Group (Alpharetta, GA) produced a customized Liquitote® with a nozzle in the top of the container. The nozzle is connected to a tube or dip pipe inside the IBC that draws product from the bottom, like a straw in a drink. BBA began shipping in volume in the new container late last year.
Aside from being compatible with the customer's formulation operation, the top nozzle greatly reduces potential spillage when the exterior hose is disconnected from the IBC's nozzle, according to John Otterson, global marketing manager at BBA. That's because residual product still in the hose falls back into the IBC, not out onto the floor as might be the case on a hose connected to a more traditional bottom nozzle. (The IBC also includes a traditional bottom nozzle in case it's used for other customers who desire such an opening.)
The IBC, made from 10-gauge steel, has a bottom that's tapered, not flat, to maximize drainage. Though BBA typically dedicates them to specific products to minimize cleaning costs, they can be steam-cleaned and reused for a different product if the need arises, says Otterson.
Companies in this article