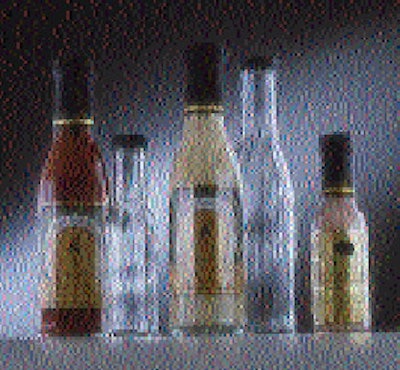 Since the mid '80s, Atlanta-based Oak Hill Farms has been causing a stir in the gourmet food industry with its upscale dressings and sauces. But the company profile should reach a new high in the months to come now that Oak Hill has been approved as a 1996 Olympic Games Gourmet Collection licensee.
"We've started packing under that label and will be introducing a couple of products at a time this year until we have all the products ready for next year," says sales manager Ross Glover. Supplied by The Label Factory (Santa Ana, CA), the pressure-sensitive label is gold foil-embossed.
Also fueling sales growth for the firm is a custom bottle designed in 1993. Owner Bob Budd attributes part of Oak Hill's recent success to this distinctive container.
"We always knew we had the best possible product, but our packaging wasn't upscale and distinctive enough to communicate that message," Budd points out.
Oak Hill worked with the Atlanta office of Berlin Packaging (Chicago, IL) to come up with a custom bottle that would give the firm the kind of unique packaging identity it needed, both for its 5-oz and 375-mL (12.68-oz) offerings. The new shape-a soft-shouldered, 12-sided bottle-emerged as the design of choice. The next challenge was to find glass manufacturers that could produce the bottle to the design specifications.
British Glass manufacturer Beatson Clark (Rotherham, S. Yorkshire, England) came to the rescue on the 5-oz size. Berlin had worked with Beatson Clark on other challenging glass containers and knew that the company had vast production experience with smaller-sized, multifaceted bottles. For the larger container Berlin turned to Arkansas Glass (Jonesboro, AR).
"We had predicted a 50% growth rate for 1993," says Budd. "Instead our sales increased by 65%. We know the new bottles were a significant factor." According to Glover, sales shot up another 65% last year, too, as Oak Hill expanded distribution into West Coast markets.
This growth has led the company to build a new 33ꯠ-sq-ft plant that should be ready this summer, beginning with two and later adding a third packaging line to handle Olympic-sized sales for next year.
Oak Hill currently fills a total of 34 gourmet sauces and dressings evenly split between the 5-oz and 375-mL sizes. Sold primarily through gourmet and specialty shops, the products retail for between $3.50 to $7.00.
Companies in this article