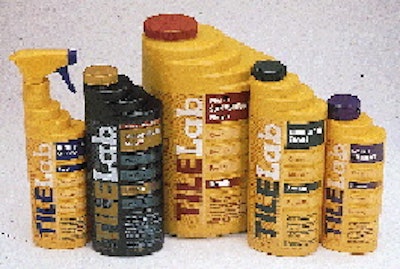 Announced April 25, 1999, in Indian Wells, CA, awards were given to the top three products in each of seven NACD categories. More than 200 packages entered the annual competition.
The steps on the TileLab bottle correspond with the four steps of tile care: clean, restore, protect and beautify. Each tile care category has three corresponding products and its own highlight color on the label and closure.
"When we developed the line, we tried to make it simple for people to choose the right product. That's why within the line we tried to identify specific purposes for the product," says Diane Wood, product manager at Custom Building Products. "We wanted to teach consumers the right way to care for tile, stone and grout." Arroyo, she says, served as packaging supplier and consultant through the entire packaging development process.
Hornall Anderson (Seattle, WA) designed the shapes of the containers, available in pints, quarts and gallons. Hornall Anderson's original design, Wood says, was too difficult to blow mold, and compromises had to be worked out between the designers and blow molders. Still, the high-density polyethylene bottle was a test for Pretium Packaging (Corona, CA) to extrusion blow mold. The gallon bottle proved to be most challenging, as the resin would bunch up at the top where the steps should be and had to be cut out by hand, says Paula Shipley, marketing director at Custom Building Products. The problem was solved recently by slightly widening the neck diameter.
Custom Building Products wanted the look of screen printing, but that was cost-prohibitive. Instead, they chose a pressure-sensitive label from The Label Co. (Anaheim, CA). The label stock, a 2.5-mil FasClear 250 transparent matte polyolefin from Fasson (Painesville, OH), is printed in seven colors via rotary letterpress. TLC then die-cuts each label into four fingers that fit between grooves on the bottle's surface. When Artisan Screen Process (Azusa, CA) applies the label, operators must smooth down the fingers manually because the equipment can't handle the complete lay down of the material, Shipley says.
Introduced in mid-'97, the products are sold through Home Depot, tile distributors, and small hardware and paint stores nationwide.
Additional NACD winners follow.