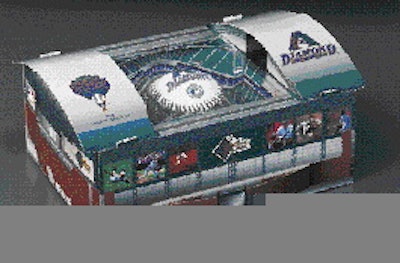 The National Paperbox Assn., Alexandria, VA, announced the winners of its 49th annual packaging competition in early May. The association chose two Best of Show winners, one in the rigid box category and one in the folding carton category. The rigid box winner was a VIP box made for Ford Motor Co. Each year, the Detroit-based company sends a set of automobile brochures to its senior management. To house these brochures, Ford commissioned a box from De Ridder Inc. (Rochester, NY).
The box is made of 60-pt white paperboard with single-faced E-flute corrugated glued to the outside. An 18-pt silver solid bleached sulfate is glued to the sides and interior of the box, and the inside is litho-printed in three colors. The lid of the box opens to reveal the brochures, and the underside of the lid is printed with graphics designed by J. Walter Thompson Co. (Detroit, MI). The ends of the box are rounded, made with halved tubes of paperboard, according to De Ridder.
Paul Szatkowski, marketing communications coordinator at Ford, says the company is pleased with the presentation of the box. "We wanted to build a piece that was functional as well as something that conveyed the Ford brand and what it is all about," saw Szatkowski. "De Ridder was excited about producing this container, and it came out really nice."
All Packaging (Aurora, CO) earned a Best of Show award for a 24-pt SBS folding box designed in the shape of the Arizona Diamondbacks baseball stadium. The box houses a collector's-edition baseball commemorating the Major League Baseball team's first season. The box is litho-printed via four-color process and UV-coated. The package was designed as the stadium was being built, so All Packaging used architectural sketches to replicate the look of the stadium. Bob Nanberg, vice president of the Diamondbacks, says the club is happy with the container. "It's a unique design," says Nanberg.
In addition to the two Best of Show winners, the NPA awarded 165 additional awards. There were 61 Gold award winners and 104 Excellence award winners. (MK)
Companies in this article
Videos from All Packaging Machinery Corp.