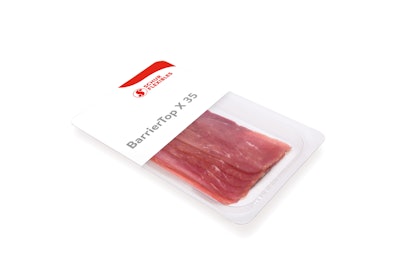 Moreover, its exceptional transparency enables perfect point-of-sale presentation, making it ideal for high-barrier applications such as chilled foods, cooked meats, sausages, cheese, fish, and dry foods.
Secure packaging, attractive appearance
BarrierTop X 35 has an excellent oxygen and aroma barrier and comes with optional anti-fog properties. The ultra-thin film has a PE sealing layer which ensures outstanding sealing quality and, despite minimum film thickness, it guarantees product safety due to its high mechanical strength. The film reliably seals all CAP/MAP applications as well as preformed trays and can be used for vertical and horizontal flow wrap applications.
Improved efficiency and sustainability for the entire packaging process
The ultra-thin BarrierTop X 35 is extremely cost-effective. It leads to less packaging waste, and, due to an increased number of linear metres per reel, there is a reduction in reel changes during the packaging process. In addition, it enables higher packing rates through optimised sealing media. Thus BarrierTop X 35 improves efficiency and sustainability during the packaging process without compromising product safety.
Companies in this article