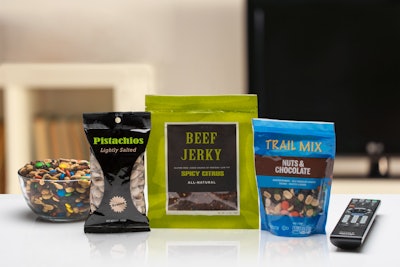 Among their applications are nuts, seeds, salted snacks, cookies, dried fruit, and confectionery items.
"The third generation of Torayfan CB films is an exciting advancement," says Tammy Williamson, Associate Product Manager of the Torayfan Polypropylene Films Division, Toray Plastics (America), Inc. "These are very sophisticated films that combine a modified base film and complex coating to achieve impressive barrier. In addition, consumers today want to see the item they are purchasing; it helps them feel confident that the food and ingredients are fresh. CB3 films offer the transparency and freshness protection they expect."
Williamson notes that Toray's new CB3 technology has an oxygen transmission rate (O2TR) of 0.06 cc/100in²/day at 73° F, 0% RH, without any compromise to moisture-barrier properties. The previous generation of CB films has an O2TR value of 0.25. In cases where end users are using a lamination made with PVdC-coated PET and a sealant web, the CB3 OPP films offer a significant improvement in both moisture and oxygen barrier.
"Also important," she says, "is CPG companies' preference that PVdC be eliminated from packaging because of the environmental concerns associated with it. They also appreciate Toray's commitment to sustainability. Now manufacturers are able to specify a transparent package with even greater shelf stability, without PVdC issues."
Williamson notes that the CB3 films are also an excellent alternative to acrylic-coated and AlOx-coated films, EVOH sealant web films, and metallized BOPP films. They run on VFFS and HFFS equipment.
Companies in this article