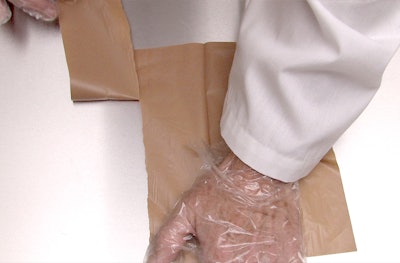 A natural extension to Ampacet's SynWrap™ synthetic paper from Ampacet, SynTear replaces coated and wax paper for "tearable" applications such as butcher wrap, deli wrap, condiment and sweetener packets, personal care packets, snack bag pouches, gift and floral wrap, craft applications, concrete bags and more.
SynTear, like SynWrap, enables extrusion of single-layer synthetic paper that can be as thin as 0.5 mils and can be produced with blown or cast film extrusion processes. Besides eliminating the need for secondary lamination, it offers excellent deadfold properties and good moisture barrier properties compared to wax paper. SynTear can be torn in either direction and the level of tear strength can be adjusted via the let-down ratio to suit specific applications.
When compared with conventional coated paper food wraps, SynTear eliminates greasy, oily stains and there is no migration of chemicals and waxes into foods. SynTear is FDA compliant.
SynTear also can be extruded with any color, effect or texture to create a unique package design or it can be produced in white or kraft paper colors for a simple food or floral wrap. Ampacet also can build a moisture-absorbing desiccant into the product to absorb excess humidity or the desiccant can be provided separately (Ampacet product code 1000072-N).
SynTear is recommended for use in conjunction with HDPE, LDPE and LLDPE films with Paper 2.0 additive, but can also be used to increase tear properties in LLDPE and LDPE virgin films, in addition to creating a dramatically quieter-sounding tear in LLDPE and LDPE films.
"SynTear is a great addition to our Paper 2.0 Technology product line," says Doug Brownfield, Ampacet Sr. Global Manager – Value Chain. "For consumer-facing products that are torn, like sugar packets, deli and food wraps, this new product offers superior performance and the tactile look and feel of paper with a minimal warehousing footprint."
Companies in this article