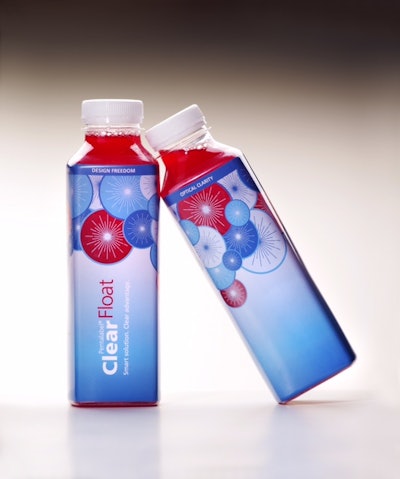 Klöckner Pentaplast's newest shrink label film, Pentalabel® ClearFloat™, are
High-performing floatable films that satisfy the growing market need for films that meet the standards set by the recycling community, while providing the clarity, processability and durability required of today's consumer labels.
Pentalabel® ClearFloat meets the Design for Recycling Guidelines as set by the Association of
Postconsumer Plastics Recyclers, providing a higher yield of PET container recycling. ClearFloat is engineered to offer high shrink percentages for optimal design freedom and visual impact. The film is available from Klöckner Pentaplast global sites in Europe and North America.
The film helps improve the efficiencies of the recycling process while maintaining the highest levels of brand presence and consumer impact. By meeting these marketing and performance requirements and addressing the clarity of the label affords brand owners an opportunity to meet multiple variables in the decision-making equation."
The fast-growing ClearFloat™ technology is ideal for new or redesigned packaging, including those with highly contoured shapes. Applications include consumer packaged goods using PET bottle for beverage, dairy, food, health and beauty, home and garden and household.
In addition, this technology includes the capability of using ink adhesion that passes APR label protocol with gravure, flexographic, digital and rotary offset printing processes.
Companies in this article
Videos from Klöckner Pentaplast Pharma, Health & Protection and Durables