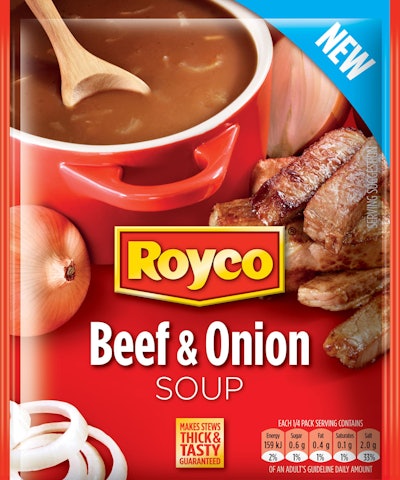 When consumers buy packaged food like dried soups or herbs, they expect to store it for a period of time before use. The barrier functions of the packaging are crucial to making this possible. Furthermore, while protecting the packaged goods is important, what about the environmental aspects of the packaging? At Fachpack 2015 in Nürnberg, Mondi Coatings presents its intelligent solution for this dilemma—an aluminum-free alternative called BarrierFilm.
Every packaged food requires certain barriers. Finding solutions for every specific demand is Mondi Coating's core business. Until recently, the best barriers available were achieved with aluminum foils. Although aluminum provides a good barrier function, Mondi's technicians have now found an intelligent alternative—the aluminum-free BarrierFilm.
Not only is BarrierFilm eco-friendly, it also offers other advantages. Because BarrierFilm contains no metal of any kind, it is now possible to use a metal detector along the supply chain without losing any of the required functions.
The BarrierFilm has already been awarded a WorldStar Award, a DuPont Silver Award, and a PPI Award for "Innovation in Sustainable Packaging." It offers excellent protection and a long shelf life for food products. In addition, it helps reduce the carbon footprint of the packaging thanks to the removal of metal. One customer even reported that, thanks to switching to this high-barrier liner for their convenience food packaging, they have been able to reduce the carbon footprint by as much as 25%.
Jussi Vanhanen, CEO Mondi Fibre Packaging, comments: "We are both proud and inspired by the recognition that comes with winning not only one but in total three awards with our non-foil high-barrier liner: the PPI Award, the DuPont Award and the WorldStar Award! It is a true testament to the innovative spirit, persistence, and excellence in development that was required to deliver this great packaging breakthrough."
By introducing a special sealing polymer that helps reduce the sealing temperature and subsequently lowers energy consumption, the sustainable approach has been further enhanced. In addition, the lower sealing temperature leads to higher efficiency on the filling lines. BarrierFilm also resolves another issue that aluminum laminates can cause. As it does not have a memory effect, it is not as sensitive to kink folds. The packaging stays scatheless and safe, emphasizing the attractive visual appearance of the product and brand even more.
Mondi's BarrierFilm is available for a wide array of applications, including dehydrated foods as well as products such as instant coffee that require an outstanding oxygen barrier. Upon demand, Mondi also provides the liner with easy-opening features such as laser perforation and can be processed on high-speed packaging lines.
Companies in this article