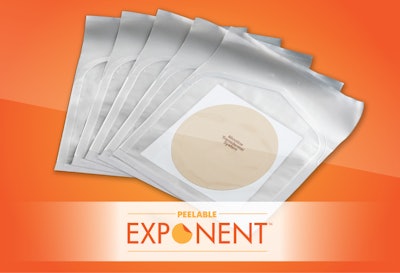 Rollprint Packaging Products, Inc. has developed Peelable Exponent™, the latest addition to the Barex® replacement product family that combines science with the consumer's desire for easy opening.
Engineering the Human Factor, Rollprint's chemical and packaging engineers and customers worked to design a package that holds some of the most challenging chemicals while still being user friendly.
Its technical team worked with the company's state-of-the-art R&D laboratory to create and analyze sealant chemistry to find the optimal balance of chemical inertness, hermetic seals, and peelability. With the growth of the senior demographic, the importance of easy-to-open packaging has come to the forefront of company requirements.
Rollprint's Exponent™ family now has four products that can hold a variety of chemicals depending on the chemistry requirements and the customers' needs, including Exponent™ 2, 3, 4, and now Peelable Exponent™.
Rollprint provides a full range of options for chemically sensitive products, including foil, high barrier, and Clearfoil® structures. The company's custom materials and sealants serve as alternatives for challenging chemical composites including transdermal patches and single-dose applications.
Barex® is a registered trademark of Ineos.
Companies in this article