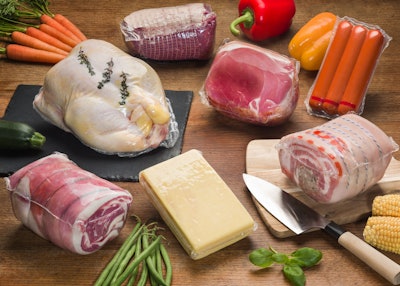 Enjoy the advantages of shrink packaging, attractive presentation and longer shelf life, on automatic packing lines.
For processors, Form-Tite™ Shrinkable Forming Films presents the opportunity to automate the packing process, gaining higher throughputs and the associated cost savings. There is much to be gained from the automation process when packing regular shaped products.
Reduce leaker rates and improve pack security with an unrivalled seal strength and range of film gauges to choose from.
Leaker rates are also reduced and pack security improved thanks to an unrivalled seal strength. Meat and Cheese processors can choose from a large range of film gauges.
Form-Tite™ Shrinkable Forming Films also reduce re-packing and waste due to the nature of the top loading process on the machines.
Applications are various; from boneless fresh meat cuts, meat cuts with bones, frozen meat, cooked and cured processed meats to poultry and hard cheese.
Moreover, for brand owners, with the latest 10 colour press technology available, it makes the packaging very attractive and an eye-catcher for the consumers.
On the shelf, meat and cheese products packed in Form-Tite™ appear at their best, due to the high gloss and clarity of the films, looking fresh and appealing to the consumer. High oxygen barrier keeps them fresher for longer which is key for retailers.
Companies in this article