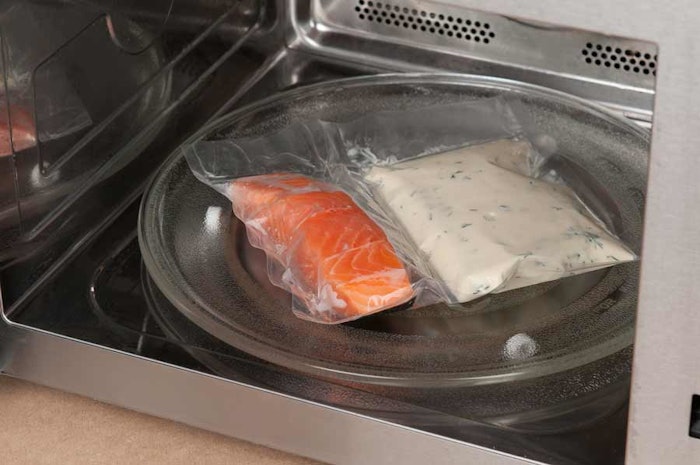 Sira-Cook™ Smart-Release™ is a two-compartment steam-cooking bag allowing the retailer to keep food separate until the very moment during cooking they want it to combine
Jeremy Haydn-Davies, sales director, said: "Smart-Release™ technology is perfect for many foods, including seafood, poultry, vegetables and desserts – with perfect tasting fish and sauce possible in just a matter of minutes thanks to the venting technology.
"The technology was developed for the seafood market – as the bag allows protein and sauce to be kept separate, and helps prevent degradation of the seafood. However, desserts such as rhubarb and custard, or dishes such as cauliflower cheese are also possible.
"Sira-Cook™ Smart-Release™ is a truly great and cost-effective concept, adding genuine value to sales. The seals will only open once a certain pressure is reached, so the food is cooked to absolute perfection in just a few minutes.
"The venting seals on Sira-Cook™ Smart-Release™ can be tuned for retailers to meet the cooking requirements of any contents, be it seafood, poultry, or desserts."
With Sira-Cook™ Smart-Release™ food and sauces are kept separate in the packaging – sealed into two compartments. The central dividing seal has been designed to rupture in a controlled way, allowing the mixing of the contents of the two compartments.
A second vent in the main compartment then opens, maintaining pressure in the bag.
Companies in this article