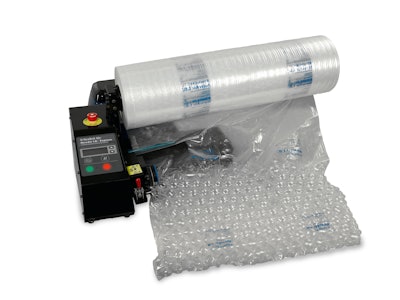 NewAir I.B. Anti-Static film is produced on the NewAir I.B. Express system which delivers patented Barrier Bubble material at 55 ft./min. in 12- and 24-in. film widths.
The inflated material provides quality product protection and maintains its cushioning properties throughout the shipping cycle. The system improves operational efficiency by reducing material handling and required material storage space while providing an on-demand solution for cushioning and blocking and bracing applications.
New Air I.B. Anti-Static material also adds a sustainability element to packaging and distribution. The reduction in exposure of products to static results in fewer damaged products, saving fuel and other transportation inputs for returns and re-shipping that otherwise would add to operations' environmental impact.
Companies in this article