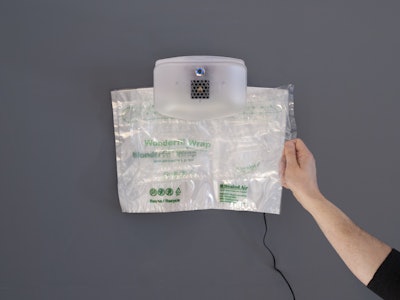 The space-saving design and simple loading and operation make the WonderfilWrap system suitable for offices, home-based businesses, industrial operations, and shipping operations with one or multiple pack stations.
The uniquely small footprint of the Wonderfil Wrap system allows customers to utilize on-demand, inflatable packaging solutions to protect items from damage during shipping. This, in addition to the reusability of Wonderfil Wrap packaging, aligns with Sealed Air¹s SmartLifeapproach to sustainability, which includes a focus on reducing waste by preventing product damage.
The WonderfilWrap system works by inflating an entire sheet of polyethylene material with the unit¹s inflator fan, which automatically stops once the sheet is inflated. After the inflated wrap is removed by the operator, the next wrap in the cartridge automatically inflates. The system requires no heat sealing or cutting onsite.
Companies in this article