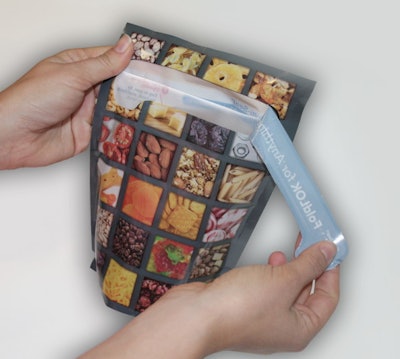 The Multi-Seal FoldLOK package utilizes advanced adhesive technology so consumers can open and reclose the package multiple times without needing to completely remove the top or use zippers. The absence of zippers leads to easier pouring, a simpler closing process for young and elderly consumers and a greater reduction in materials over current reclosable packaging.
To open the Multi-Seal FoldLOK package, consumers completely peel off a perforated strip, revealing the opening across the top of the package. When the consumer is ready to store the remaining product, they simply fold the top of the bag over the strip and the materials stick together to seal the package.
Previously suited for pegboard display of shredded cheese products, the expansion of the Multi-Seal FoldLOK package adds value to a variety of food products. Reclosable packaging for products such as snack foods and pet treats can be particularly convenient for consumers, as it allows for easier portioning and portability.
Companies in this article