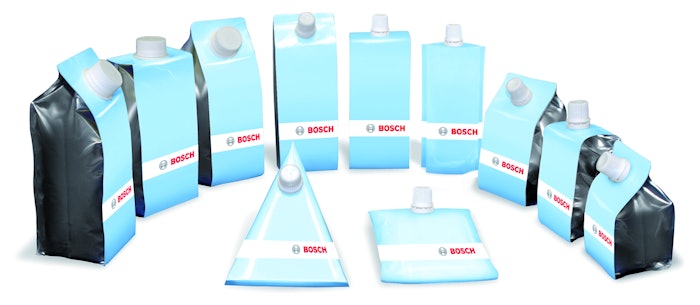 SurePOUCH formats include EZPouch, EZGable and EZSquare for retail applications, and for food service applications, the EZPillow can hold up to 20 liters, allowing for easy and quick refilling. All formats are produced, filled and sealed with the same machine, allowing the user to expand the product portfolio without fundamentally converting the production line.
Clean-filled applications include non-carbonated beverages and water, dairy products, concentrates, soups, sauces, and dressings. The system is capable of filling viscous liquids up to 25,000 centipoises as well as particulates up to 25 millimeters in diameter while protecting particulate integrity. Can also handle dry bulk goods, such as flakes, powders, rice, or coffee.
To achieve hygiene standards up to ultra clean-fill, packs are also fitted with reclosable spouts, which are ultrasonically welded to the exterior of the pouch and can be positioned in various locations. They provide an enhanced hygienic feature because the product is filled directly into the pouch and not through the spout. The closure only comes in contact with the product when the consumer opens the package. The spouts are available in sizes of 10, 20 and 30 millimeters. Customized options for food service are available.
Drinking straws or simple tear-notches can be added to the SurePOUCH pack styles. For the food service sector, adjusting extra handles to the upper seam simplifies lifting and dosing when pouring.
In addition to the SPC machine, the company supplies both the spouts and the lightweight film or laminate structures, helping to guarantee seal and package integrity while ensuring easy handling, storage, and dispensing of products. The stable design allows packages to stand-up once vacant. Provides high evacuation rates for increased utility as well as collapsibility for efficient disposal.
Created with thin gauge and light plastic materials. This is said to result in significant cost and energy savings throughout manufacturing and transportation. In comparison to alternative packaging concepts, SurePOUCH results in weight reduction of up to 80%, according to the company. The new flexible pack style also helps to lower the product-to-package weight ratio compared to rigid alternatives.
Companies in this article