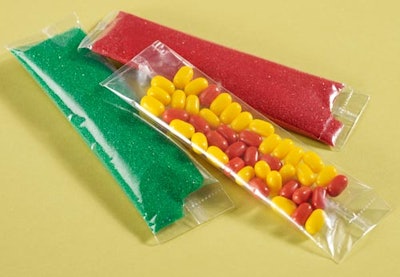 Rollprint Packaging Products Inc. is introducing what it believes to be the first transparent, nonaluminum foil, barrier film line for stick-pack and flow-wrapped consumer products.

The new Overture® One lamination is based on Rollprint's proprietary ClearFoil® barrier-coated polyester, coupled with an aggressive sealant. On display at PACK EXPO, the structure enables high-speed sealing for added functionality.

"It can run at speeds of 300 ft/min without sacrificing sealing or barrier properties," says Dwane Hahn, vice president of sales and marketing. "Typically, people have wanted foil for barrier."

Overture One is suitable for many granular, powdered, liquid, and solid products that can benefit from both film clarity and the absence of foil. Possible applications include powdered drinks, liquid pharmaceuticals, pesticides, and household cleaners. Flow-wrapped products can range from syringes to IV bag overwraps.

"Our research told us that there was a need for a structure that would provide the barrier properties required without the use of aluminum foil," Hahn explains. "The reasons varied from wanting portions of the product to be visible to consumers to overcoming metal detection interference."

The end result, he adds, is a proprietary structure that can achieve comparable performance to foil-based laminations at two-thirds of the thickness. This creates an opportunity for cost savings.
Companies in this article