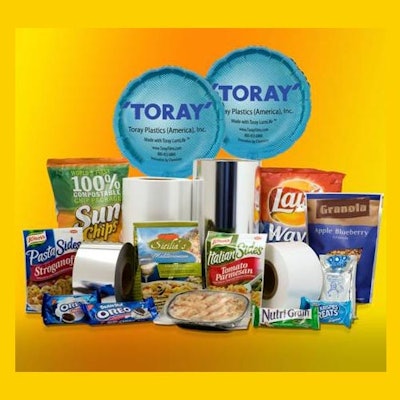 Consumer packaged goods companies and converters attending PACK EXPO are exploring leading-edge films that offer performance, value, sustainability, and sourcing benefits. Among them are those that Toray Plastics (America) Inc. is showcasing—precision-performance polypropylene, metallized, ultra-thin, and bio-based films for packaging and industrial applications.

Two new innovations at Toray Plastics' booth are:
• Ecodear® films, available in the U.S. and Canada. These are compostable, bio-based films made with renewable resources. Manufactured with polylactic acid (PLA) resin, the thin bi-axially-oriented Ecodear films include a metallized, heat-sealable film that delivers good moisture and oxygen barrier protection and a clear film for use either as an inner seal layer or a printweb. Food packaging applications include frozen foods, snacks, cookies, cereal, and nutrition bars, as well as confectionery items. Packaging for nonfood items includes personal care items, fashion accessories, promotional items, toys, office supplies, and other retail products.

• Torayfan® TreaTear™ films are polypropylene directional-tear sealant structures for retort gusseted and nongusseted pouch applications. TreaTear films work as the sealant layer in any type of pouch lamination and do not require laser scoring or perforations to make a clean, exact straight tear wherever one is needed. These advanced films are drop-in replacements for traditional CPP and LDPE sealant webs. Applications include seafood, chicken, prepared entrees, rice, military ready-to-eat meals, and pet food pouches.
Companies in this article