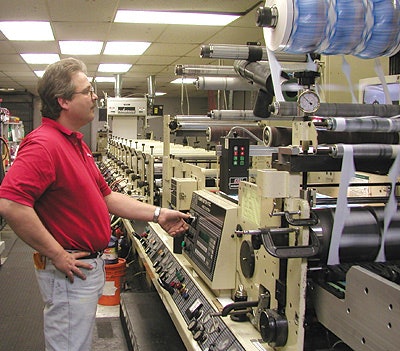 The new UltraForce ink system is supplied by Arcar Graphics, a division of Flint Ink Packaging North America. "The previous water-based inks we phased out [were limited] in their adhesion to [our] film labels," explains David Groves, CPP's assistant plant manager. "The new inks solved the ink-adhesion challenge, helped gain important new business, improved press performance and speeds, and practically eliminated downtime."
With the UltraForce inks, "We saw good bonding on the first run," he continues. "We also get cleaner dots and better ink transfer off our anilox rolls, so we have sharper, better quality printing," he says.
UltraForce inks are used on three machines, though "we're working on using them on all our presses now," Groves asserts. Flint Ink supplies inks in 1-gal high-density polyethylene jugs "for ease of handling" says Groves. Flint supplies CPP with basic colors. CPP then blends colors, offering hundreds of color varieties for the film and paper labels it prints primarily for food and automotive applications.
Groves credits the inks with helping CPP acquire new business printing labels for Morningstar Foods' private-label brands of whipped cream in aerosol cans.
"Everyone in our shop notices the differences in these inks," says Groves. "We get brilliant colors and the color strength is an advantage we're really happy with. We get better mileage out of the inks" than the previous ink.
For these benefits, Groves admits the new inks cost 10% to 12% more than previous inks. However, he believes that when all the advantages of the new inks are factored into the equation, UltraForce inks cost equal to or less than their predecessors on a per-label basis.
Companies in this article