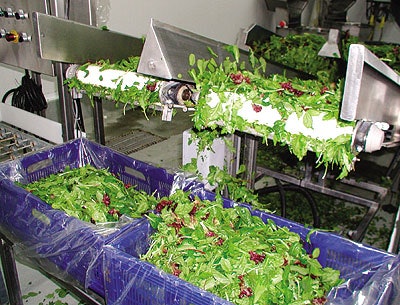 When Veg Pro International evaluated the benefits and issues that would result from replacing its corrugated containers with returnable plastic ones, it didn't take long to do the math.
"The logic is in the cost savings," explains Anthony Fantin, co-owner and treasurer of the Sherrington, Quebec, Canada–based grower and shipper. "We're saving money because we're not throwing away so many boxes."
The totes, from IPL Products (Northborough, MA), replace one-way corrugated cases.
The company has traditionally used film-lined corrugated boxes to ship its various fresh garden-salad produce to customers in the northern and northeastern United States. At its Belle Glade, FL, plant, Veg Pro began exploring the use of Returnable Produce Containers (RPCs) when it started growing and shipping spring mix and baby spinach. The majority of customers now using the RPCS are food processors.
Compact when collapsed
As a test program, Veg Pro leased returnable crates for one season. That success led it to purchase 10ꯠ SmartCrates® in December 2001 from IPL. The polypropylene SmartCrate GP6419 has an ultrathin collapsed height—12/5''—for extra space savings in storage. This also allows more to be shipped per unit load.
When erected, its dimensions are 232/3'' x 15¾'' x 8''. Other features include interlocking tabs for compatibility with popular footprint corrugated containers and patented ventilation for rapid cooling of perishables. Lined with perforated film, the blue crates are filled with 7 to 8 pounds of spinach or other greens.
Veg Pro carefully evaluated its customers before offering them the returnable totes. "We chose customers that were doing large volumes with us and that were willing to pay for containers when they get lost," explains Fantin. "Even with the possibility of losing containers, our customers saw the cost savings right away and were willing to partner with us." The incentive for processors is a reduction in the overall cost of the toted produce from Veg Pro.
From there, it was simply a matter of determining the number of RPCs that were required. "The logistics were not complex," Fantin says. "We already had trucks going back and forth from our company to our customers' sites. It is no harder than what we were doing before." For some customers, Veg Pro handles the returns, while for others it is entirely the customers' responsibility to return them.
Veg Pro had experienced success with returnable totes in the past, having used IPL's FlapNest™ 2416-14 internally for about a year to move produce from field to plant. The FlapNest is a nestable high-density polyethylene container with an attached, hinged HDPE lid. Veg Pro uses about 12ꯠ of the grey totes, which measure 24'' x 16'' x 14''.
The totes are cleaned at the plant after each use.
"We're saving money by not throwing away so many boxes, and we're able to control the level of cleanliness because we wash them ourselves," adds Fantin. "We don't have to worry about contamination from earlier loads."
Fantin estimates that the company recoups the cost of a FlapNest tote after five round-trips in the delivery cycle. "And we have turned them around many, many more times than that."
The SmartCrate's collapsibility was the reason Veg Pro selected it rather than purchase more FlapNest totes for shipment to customers. This allows more to be returned per shipment and yields dramatic storage space savings.
Although they are more than satisfied with the crates from IPL, Fantin does not have any plans to replace all its corrugated boxes: "We plan to continue using both solutions where they fit best. We will offer the SmartCrate to anyone who requests it, and will suggest it to customers when we see an opportunity where we both will benefit." As with its spinach, those opportunities continue to grow.
Companies in this article