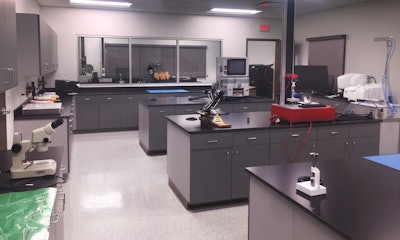 Operating under the company's Pregis Films business unit, the Grand Rapids facility provides high-quality custom film rollstock to converters for packaging applications that protect a wide variety of products.
"We made the investment in the new lab to create systems and processes that will enable us to exceed our customer's expectations. Having an onsite facility will better equip us to provide faster solutions and also allow us to accelerate our R&D work," said Tom Wetsch, chief innovation officer, Pregis. "With customers increasingly looking at customized structures and accelerating the pace of their development, we wanted to make sure we had the right resources in place to support them."
The facility produces polyethylene film that is converted into a variety of flexible packaging structures for applications such as food (standup pouches, form-fill-seal), medical (breathable bags and pouches), industrial (automotive, hardware, etc.), as well as surface protection. The lab will include analytical testing equipment and physical testing (peel, tensile, impact resistance, tear, hot tack, and coefficient of friction) to support all of those applications.
"Customers are continuing to place more stringent quality demands on suppliers. That includes roll flatness, wind quality and physical performance properties which enables them to optimize speeds in pouch converting or vertical and horizontal filling lines," Wetsch said. "Our new lab capability will help them meet many of those objectives.
Companies in this article