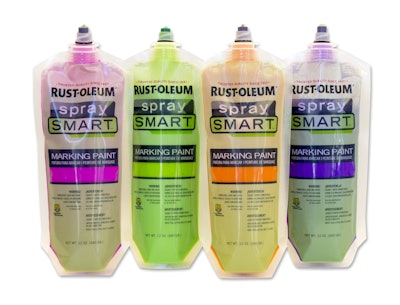 Printpack is pleased to announce that it has been awarded a Gold DuPont Awards for Packaging Innovation for its innovative new Rust-Oleum SpraySmart marking paint packaging. This technology-enhanced barrier pouch replaces a conventional aerosol can. The movement away from a traditional aerosol can not only improves the user experience by increasing efficiency but also demonstrates responsible packaging by replacing a can with a pouch that can be disposed of in the regular waste stream. The pouch was recognized for excellence in the categories of Responsible Packaging and Enhanced User Experience.
Judge Brian Rivers, Engineering Fellow, Strategic Sourcing, Sealed Air Corporation, USA, states: "The SpraySmart enhanced barrier pouch represents a step change in the application of outdoor paint compared to the traditional aluminum can."
Wade Stockton, sales manager for Printpack comments: "Rust-Oleum's SpraySmart system is a revolutionary marking paint technology that moves the needle on what is possible with flexible packaging. This high barrier product development showcases Printpack's focus on converting vision into value for our customers, and we are pleased that Rust-Oleum chose to partner with Printpack for this extremely challenging application."
"We are extremely honored that DuPont has chosen the SpraySmart enhanced barrier pouch to receive this prestigious award," says Jeff Kistler, Vice President of Marketing for Rust-Oleum. "This system was developed with the utility locator end-user in mind and was designed to solve the issues that are facing that market today. We believe this is the future of marking paint."
Inaugurated in 1986, the DuPont Awards for Packaging Innovation is recognized globally as the leading packaging awards program. This program supports DuPont's commitment to recognize excellence and inspire innovations in packaging. Each year an esteemed panel of independent judges award diamond, diamond finalist, gold or silver honors based on "excellence" ratings in one or all of three categories: Technological Advancement; Responsible Packaging; and Enhanced User Experience.
Companies in this article