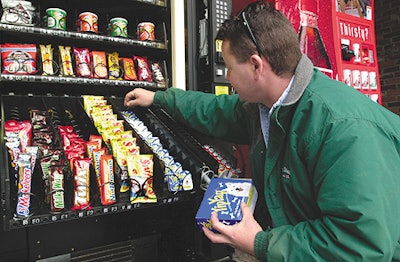 For about 18 months, Chomp, Inc., has been expanding distribution of its pet candy that is packaged very much like candy for people. In fact, making pet candy available in all types of outlets that human candy is sold is one of the primary concepts behind the company and its products.
In addition, the Lebanon, NJ-based company is the prototype of a "virtual" company. Although most of management is based in New Jersey, the two founders work from home offices in Maine and Massachusetts. Additionally, Chomp's vice president of sales lives in Florida, and all manufacturing and packaging is done through midwestern companies under contract.
The company's two products, Sniffers and Yip Yap, are made from tried-and-true ingredients for pet products. Both were developed by the company co-founders, Sarah Speare and Lesley Lutyens.
"Basically, our marketing strategy is that wherever human candy is sold, our pet candy would be sold," says Speare, Chomp president from Maine. "We wanted to capture the emotion, the fun, the portability, the price points, and the impulse—the positioning—of human candy. The products are proven pet attractors that are made and packaged just like people candy. The ingredients are not revolutionary. It's the marketing and packaging that sets these products apart."
Sniffers are semi-moist bites flavored with either beef or cheese. The 2.2-oz pack retails for 99¢. Packaging, a flow-wrapped pouch, is reminiscent of the pack used for small candies. The film is a three-ply lamination of reverse-printed 75-ga oriented polypropylene/48-ga metallized polyester/2 mils of a metallocene-based sealant. The OPP is printed flexo in five colors plus a lacquer, reports Lutyens from Massachusetts. "Because of the flavors and semi-moist nature of the bites, these had to be packed in a barrier film to keep the bites fresh and moist," she says. Lutyens declined to identify Chomp's sources for packaging materials and contract packaging.
Speare adds that the packaging, designed in-house, appeals to dog owners. "The packaging is geared to pet owners, so it reminds them of their favorite candy packaging," she says. "But the graphics reinforce that this is a product for dogs."
Yip Yap is a breath mint shaped like a dog bone. It's packaged in a two-piece tin that's printed offset in six colors over white. Like the people breath mint package it resembles, the bone-shaped mints nestle inside a paper liner. The tin sells for $1.99 to $3.99 for 1.4 oz.
"There are plenty of breath tablets on the market, but they're packaged and sold like medicine in the back of the store at high price points," Speare points out. "They display absolutely no fun or emotion. That's why we decided to put our product into tins, and the tins are sold from display boxes that can sit right out on the counter for impulse purchasing."
The two products are already available nationally and internationally in chains like Petco and PetsMart and in specialty pet stores. They're also sold to veterinarians and pet clinics. But what really sets apart the Chomp products are the other outlets—from Bed, Bath & Beyond to vending machines alongside human candy at rest stops on interstate highways.
Counter and shelf packs
Because of differing market environments, Chomp's contract packagers load the individual packages into different types of display boxes.
"Since convenience stores and other outlets sell our products from the sales counter, we pack 12 packs into display cartons with a built-in header for merchandising," Speare says. "The individual packs are loaded horizontally since the consumer will be looking down into the paperboard box."
For the grocery trade, Speare reports that the products are currently sold in the pet section. "Since a lot of stores tend to merchandise our products up high, we use a paperboard box that holds the products vertically in a single row so the front panel of our product faces out."
The Sniffers display box is a 24-pt SBS, printed offset in six colors plus an aqueous coating. The box for the Yip Yap tins is a 20-pt SBS, also printed offset in six colors plus the coating. Twelve of these boxes are loaded into corrugated shippers, and Speare says a third-party logistics company warehouses and ships products to wholesalers and distributors.
Vending machines too
Although the company has continued to broaden the distribution of the two products, last year it signed up a distributor willing to service the vending machine channel. "We thought about vending early on, but we weren't able to break into that area until just a few months ago," Speare says.
She says that a lot of people travel with their pets, but vending machines at rest stops didn't have anything for dogs. "So our products fill a need, especially as many rest areas now have areas to accommodate pets. Our packs are now in the vending machines here in Maine, and we're hoping that will spread into other areas of the country," notes Speare.
In fact, the company also will offer its first product for cats which is due out early this year. Pitter Pat will be a breath product for cats, also packaged in a tin, but a smaller one. In addition, the company also sells to pet-friendly hotels, where the pet candies are merchandised from mini-bars.
Finally, Chomp is now looking at free-standing dispensers similar to bubble-gum machines. Although this hasn't yet been implemented, Speare says, for a coin, the machine would dispense a capsule that contains some breath fresheners for either a dog or cat.
"What consumers really love about our product is its portability," she concludes. "They can put a pack in their pocket or keep it in their cars."
Companies in this article
Videos from Universal Labeling Systems, Inc.