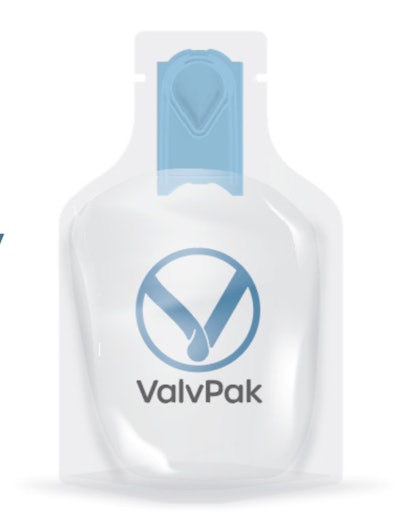 Zip-Pak exhibited two new innovations during PACK EXPO International 2018, the ​Safety-LokTM and ​ValvPakTM. These products ​are the result of in-depth research and leading-edge ingenuity of the company's Engineering and Development Innovation Center.
Safety-LokTM​, the new Zip-Pak child-resistant slider zipper, uses Zip-Pak's slider technology designed to help keep children safe from harmful products. Featuring an intuitive one-step opening mechanism, it provides deterrence for children, yet convenient access for the intended consumer. A key differentiator of Safety-LokTM ​Child Resistant Slider is the proprietary clip mechanism allowing the package to be opened from any position with a light squeeze, creating a wide-mouth opening for easy access to package contents. Safety-LokTM ​Child Resistant Slider is compliant with CFR and ISO standards.
Also showcased at PACK EXPO for the first time was ​ValvPakTM​, a product launch that marks Zip-Pak's entry into the liquids category. This revolutionary patented flexible valve technology provides controlled dispensing and spill-proof containment of liquids in flexible packaging. It's a discrete flexible valve that yields when pressure is applied to a pouch's product compartment enabling controlled dispensing. When squeeze-pressure is released, the valve reoccupies and closes the dispensing channel. Compared to a rigid bottle or a pouch with a plastic cap or closure, ​ValvPak ​offers cost and sustainability advantages, and is an ecommerce-ready solution that doesn't require any overwraps or extra packaging.
"The Zip-Pak Child Resistant Safety-LokTM and the ValvPakTM flexible valve are two innovative solutions that perfectly align with consumer trends and needs," says Erin Henry, Global Director of Innovation and Marketing for Zip-Pak. "Each new product is designed to meet specific consumer usage needs, while also delivering quality and efficiency to brand owners, converters and co-manufacturers. We are confident these reclosure solutions will enable our brand partners to market innovative packages that will attract and delight their consumers."
Companies in this article