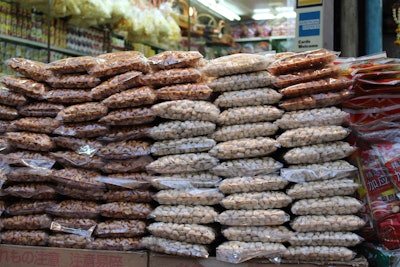 Pouches pack convenience features, portability and lightweighting advantages, which provide appeal across various industries. That's evident in The Freedonia Group's new study, "Pouches in the US, 8th Edition."
The fastest gains are expected for smaller segments such as nuts and dried fruit (as shown in the photo here), which it says benefit from trends toward smaller packages and healthy snacking.
The report says nearly 75% of demand is generated by pillow pouches, thanks to savory snack, cookie and cracker packaging. Pillow pouches are also extensively used to package candy and confections, says Freedonia, where they replace more traditional cellophane, paper, and foil wrappers due to their more updated appearance and better tamper evidence.
Freedonia cites the 2017 top pouch markets as follows: candy and snacks, 33%, processed foods, 21%, medical and pharmaceuticals, 15%, and produce, 5%.
The demand for pouches in all applications is forecast to increase 3.9% annually to $10.5 billion in 2022. Convenience and the popularity of snacking will continue to drive conversions from rigid containers to more lightweight pouches with value-added features such as spouts, zippers, and handles.
Freedonia notes that savings from reduced material usage, along with associated sustainability benefits, will support brand owners' transition toward pouches.
The report does point out that pouch prices will increase as raw material costs rise, although price competition will limit further gains.
Companies in this article