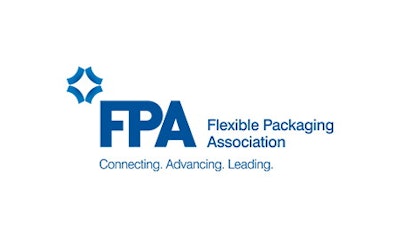 The Flexible Packaging Association reports that its 2017 Fall Executive Conference held October 3, 2017, in Chicago, had a record-breaking 148 attendees and welcomed speakers that focused on topics and issues important to the flexible packaging industry. Among the presentations were an update on the International Trade Commission and Section 232 investigations of aluminum imports, the state of sustainable packaging, an overview on the flexible packaging global market, an update on FPA's State Advocacy Program, and a polyolefin market update.
In addition to industry content, the conference included three guest speakers. The first was social entrepreneur and author Matt Tenney, who discussed strategies covered in his book, "Serve to Be Great: Leadership Lessons from a Prison, a Monastery, and a Boardroom." He is an international keynote speaker, trainer, and a consultant with the prestigious Perth Leadership Institute, whose clients include numerous Fortune 500 companies. Tenney works with companies, associations, universities, and non-profits to develop highly effective leadership skills and achieve lasting success by focusing on serving and inspiring greatness in the people around them. FPA thanks The Dow Chemical Company, ExxonMobil Chemical Company, Hosokawa Alpine American, KBA Flexotecnica, and Siegwerk USA Co. for sponsoring Tenny's presentation at the conference.
The second guest speaker was Peter Ricchiuti, a Wall Street investment visionary and author, who shared valuable tips with conference attendees on what to look for while stock hunting. He elaborated on the criteria and methodology he uses in his own investment research program, which is driven by more than 130 university business students who search for investment opportunities among undervalued stocks. FPA would like to thank Bobst North America Inc., INX International Ink Co., Nordmeccanica, NA, and NOVA Chemicals, Inc. for their generous sponsorship of Peter's presentation.
The third was world record-breaking polar explorer and repeat TED Speaker Ben Saunders, who discussed "Achieving the Impossible" and shared the keys to beating the odds and staying motivated through challenges, risks, and setbacks. Stating, "No one else is an authority on your potential," Saunders unraveled the mysterious roots of perseverance and shared insights about the traits we all possess that can allow us to tap into our deepest store of tenacity. FPA thanks Flint Group and Sun Chemical Corporation for sponsoring Ben's appearance at the conference.
The FPA 2017 Fall Executive Conference also included many networking opportunities for FPA members. Special thanks are given to FPA members Actega Coatings and Sealants, Ashland, Bema Incorporated, Berry Global Inc., Chevron Phillips Chemical Company LP, Energy Sciences, Inc., Lubrizol Advanced Materials, Paper Converting Machine Company (PCMC), Plastic Suppliers, Inc., and Wikoff Color Corporation for their support of the FPA 2017 Fall Executive Conference Networking Events.