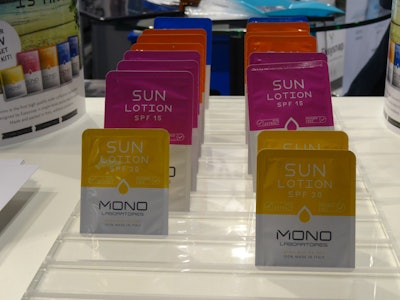 Attracting attention at Milan's Ipack-Ima show this week was the new Easysnap single-dose sachet packaging system that allows for one-hand dispensing. The technology comprises a square sachet with a patented center cut that allows liquid contents to be dispensed in a controlled manner when the consumer bends the packet in half. The Easysnap has been developed to replace flexible sachets, monodose tubes, small bottles, and thermoformed cups for applications such as food, personal care, and healthcare.
According to Christian Burattini, CEO and co-founder of Easysnap Technology S.r.L., at the heart of the solution is a patented technology that allows for the center cut in the film to be customized for the application, ensuring the integrity of the sachet until opening and allowing for controlled dispensing.
The sachet is constructed of top and bottom multilayer film structures, where the bottom barrier film—comprised, for example of polystyrene/aluminum/polyethylene—is scored on the outer layer (PS) and on the inner layer (PE), which is in contact with the liquid product. "These two scores are variable, in depth and length, depending on product density, allowing for the best product dispensing when the sachet is folded with one hand," explained Burattini.
Easysnap currently has 40 of its Easysnap patented vf/f/s machines in the market globally, and co-packs products at its facility in Bologna. Clients include companies such as LivCorp Inc. of Canada, which is using the sachets to deliver natural medications, such as pain relief creams, and Capilano, an Australian company producing honey. According to Burattini, Easysnap is currently co-packing 3 million units/yr of the sachets for Clarins, which will soon be introducing a dual-chamber sachet to deliver its Double Serum—a product that retails anywhere from $70 to $100 for a 30-mL bottle.'
The custom-built machine used to produce the Easysnap, the Easysnap STAR, also on display at the show, can produce up to 240 sachets/min using six lanes, includes a thermal-transfer printer for printing on the bottom film layer, and has the flexibility to accommodate a range of sachet sizes with quick changeover.
Companies in this article