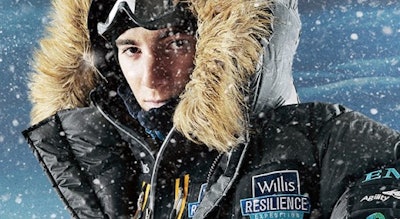 Packaging provider Amcor has announced its sponsorship of the 2013 Willis Resilience Expedition, whereby it will provide state-of-the-art packaging for teenage explorer and climate campaigner Parker Liautaud who will be trekking from the Antarctic coast to the South Pole, beginning Dec. 13. Nineteen-year-old Liautaud is attempting to set a world record to become the fastest and the youngest person to make the journey. During the expedition, Liautaud will also be conducting environmental research on the impact of climate change.
Says Amcor Flexibles Vice President Research & Development Bob Biasi, "The packaging we've designed for Liautaud uses Amcor's Duratear technology, which offers many unique physical properties compared to ordinary plastic packaging. Typically used for medical kits, Duratear enables us to create a super-tough bag that will endure the extreme Antarctic conditions and the incredibly rough journey. Liautaud's food will be safely stored in an Amcor bag that won't puncture, will stay flexible in sub-zero temperatures, won't split on high impact, and will withstand all the rigors of the 640km [397-mile] trek."
Part of the packaging solution includes a clip sourced by Amcor that attaches to the bag and provides a resealable opening feature. This will enable Liautaud to easily open and close the bag while wearing four pairs of gloves, minimizing skin exposure and significantly reducing his risk of frostbite. On an average day, Liautaud will be on the move for around 12 hours, stopping every 1.5 hours for very short six- to-eight minute breaks. On these breaks, Liautaud will access the high-calorie snacks stored in Amcor's packaging to help take in the 6,000 calories he needs daily to survive, while expending about 10,000 calories per day.
Liautaud says Amcor's packaging will be critical to his survival on the ice: "On previous expeditions, we've used plastic bags, which are basically designed for school lunch boxes. Trekking through extreme wind and cold, while constantly hungry, it's truly a depressing moment to watch your food bag split open, and cashews spill everywhere. The food packaging is one of the most important elements of a safe and successful expedition. It has implications for our safety on the ice, and our mental state. The gear we need—from clothing, to equipment, to food packaging—needs to be able to keep up with us as we push the boundaries of what's possible."
Liautaud's expedition can be watched live at Resilience Expedition, as each step will be broadcast live using a custom-designed vehicle that will remain separated from Liautaud except for voice radio and telemetry transmission.
Packaging features
The packaging designed for Liautaud uses Duratear technology developed by Amcor in 2006. Today it is used by medical device companies to package surgical kits and equipment—from eye kits to cardiac surgery packs. The packaging combines different resin technologies, using a blown-film process to create a super-tough and flexible product that can endure the extreme Antarctic conditions.
By taking the film technology used in the Duratear packaging, and adjusting it to fit Liautaud's needs, Amcor has created a solution that can keep Liautaud's food protected in one of the harshest environments on the planet. Key features of the packaging include:
• Metallocene resins and a blown-film process that maximizes the impact strength and puncture-resistance of the packaging. This strength will ensure the food contained in the packaging will be protected throughout the tough conditions, such as being bounced around on the sled or being dropped.
• A sturdy yet lightweight structure, which minimizes the burden on Liautaud, who is hauling his food and equipment on a sled for an average 18 miles (30km) a day.
• Flexibility at low temperatures of up to -60°C; this means the packaging won't stiffen and split in the extreme Antarctic temperatures.
• Good clarity, so the contents of the bag are easily viewed. This means Liautaud can easily distinguish what food is inside to ensure he selects the right food item.
Companies in this article