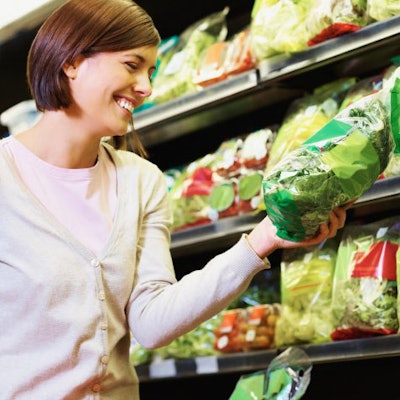 Demand for converted flexible packaging is projected to increase 3.8% annually to $18.2 billion in 2015. That's according to a new study, "Converted Flexible Packaging," from industry research firm The Freedonia Group, Inc. The study adds that gains will be similar to the pace of the 2005-2010 period based on the well-established presence of pouches in a number of food and nonfood markets coupled with overall deceleration in raw material price growth. Converted flexible packaging's source reduction capabilities will also be increasingly advantageous in light of initiatives by major retailers and packaged goods firms to evaluate their packaging in terms of eco-friendliness and cost reduction.
Pouches will experience above-average advances, with demand expected to increase 4.6% yearly to $8 billion in 2015. Growth will be driven by continued conversions to stand-up pouches and healthy gains for flat pouches in a number of markets, along with a smaller environmental footprint due to light weight and reduced material use, which also holds down shipping costs. Additionally, the aging of rigid packaging equipment will create openings for replacements by pouch-packaging equipment over the coming decade.
Gains for bags will be moderated by the maturity of many applications along with competition from pouches and rigid packaging. Still, advances will represent an improvement from the 2005-2010 performance based on the expected recovery in the U.S. economy. Plastic bag demand will outpace that of paper bags due to cost and performance advantages, along with widespread usage in baked goods, produce, meat, frozen food, and grain mill product applications. However, growing efforts by packaged goods firms to demonstrate their commitment to sustainability will lead to some degree of renewed interest in paper, which possesses such qualities as renewability, recyclability, and compostability.
Converted flexible packaging demand in food applications is projected to climb 4% per year to $12.9 billion in 2015. Advances will be driven by favorable demographics and rising demand for convenience-oriented and other processed food items, which often use more costly higher-barrier packaging materials for extended shelf life. The fastest gains are anticipated in beverage, meat, and related products, and snack food applications. Demand in nonfood markets is projected to increase 3.2% per year. Advances will be led by above-average gains in the pharmaceutical and medical product markets.
"Converted Flexible Packaging" is available for $5,100 from The Freedonia Group, Inc. Contact Corinne Gangloff by phone 440/684-9600 or e-mail pr@freedoniagroup.com.